Common Pool Construction Misconceptions
Oct 09, 2020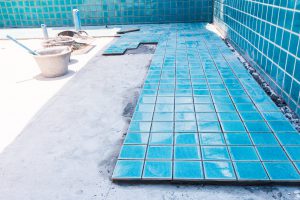 People Get A Lot Wrong About Pool Construction
Installing a pool is an exciting time for any homeowner. After all, while the process might take some time, the outcome is one that everyone can enjoy. Swimming pools are a welcome and exciting addition to any home. However, before you can enjoy the benefits of being a pool owner, you must first build a pool.
The pool construction process is an arduous one. It's not something that happens overnight. It takes the work of various individuals and requires numerous permits to ensure it is safe to use. Throughout construction, a host of things can delay the completion date of your project. These are all things many homeowners do not think about when deciding to build a swimming pool.
There are many things that potential pool owners do not realize or understand about pool construction. Even further, they have many pool construction misconceptions that either raise their expectations or lead to confusion or irritation during the installation process.
If you are a homeowner that is considering installing a swimming pool at your home, there are some pool construction misconceptions that you need to identify to make this process smoother for you. If you are ready to start working on your dream project, give the expert DFW pool builders at Mid City Custom Pools a call today.
Misconception: Homeowners Do Not Need to Get Permits.
Whether because homeowners do not know they need to, or they ignore the fact that they do, many homeowners begin building a pool without securing the appropriate permits. While there are several permits that can be acquired by the individuals doing that job (plumbing, electricity, gas, etc.), homeowners need to get approval from their county or city.
Even though there are fees, regulations, and inspections that come with pool permits, they are a necessity. These fees pale in comparison to the fines you will have to pay to your local government for failing to inform them of your pool installation.
In all areas of the country, homeowners must apply for and pay for a permit if they plan on installing a pool deeper than 24 inches.
Misconception: Pool Construction Follows a Strict Timeline.
Every pool builder wants to get homeowners their pools in a specific timeline. While there is a process of building a swimming pool, many things can lead to delays in the completion of the project. All pool builders can give you is an estimated timeline, but not even the most experienced pool builders can avoid some delays.
From weather and soil to unexpected circumstances like the ongoing pandemic, many factors can extend pool construction. What should have been several weeks can turn into several months thanks to many unforeseen factors. Remember, while pool builders follow a process and set a timeline, life has other plans. However, an expert pool builder like the ones at Mid City Custom Pools has the experience and skills to keep construction moving even with these delays.
Misconception: All Pool Builders Require Licensing.
Unfortunately, anyone can build a pool, even homeowners. Because pool builders do not need licensing, many homeowners turn to less than reputable businesses, inexperienced individuals, or even themselves. However, doing so leads to disappointing and often dangerous finished products.
Homeowners turn to these individuals since they are often cheaper. However, what you save in money, you lose in skill, craftsmanship, and attention to detail. Chances are you will have to pay more in the future to fix the mistakes of an unlicensed pool builder.
If you are gearing up to build your pool, look for a licensed pool builder with years of experience.
Misconception: Guarantees Always Last.
There are several pool construction misconceptions when it comes to guarantees. In most cases, a pool builder will include a guarantee for every pool they build. However, there are exceptions to these guarantees. First, if a business were to go under or close its doors for any reason, any guarantees that they made would no longer be valid.
Additionally, for many pool builders (including Mid City Custom Pools), our warranty covers the pool structure to remain structurally sound during the time that the original pool owner owns the pool. Once the house (along with the swimming pool) is sold to another owner, the guarantee no longer covers the amenity. To learn more about Mid City Custom Pools' own warranties, visit our site today.
Misconceptions: Pools are Expensive to Maintain.
A common pool construction misconception is about the pool after it is complete. People often worry about the cost of maintenance throughout the installation process. They believe that maintaining your pool is either too hard, too expensive, or both.
However, that is not the case. If you have the right pool accessories and keep up a regular pool cleaning schedule, maintaining your pool is easy and inexpensive. In fact, if you don't regularly keep up with your swimming pool, you'll likely have to pay more to fix it than you would to maintain it. Be sure to ask your pool builder what essential accessories you'll need.
Owning a pool is an exciting prospect for any homeowner. Not only is it a way to relax and have fun, but you can also use it to stay in shape. Building a pool is a long process, filled with many moving parts. Often, homeowners have many pool construction misconceptions. Fortunately, at Mid City Custom Pools, our team of expert pool builders can answer any and all questions you may have to clear the air about any of your concerns.