3 Benefits of Fall Pool Construction: Why Autumn May Be the Ideal Time
Nov 17, 2023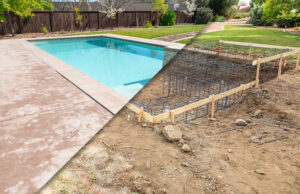 When homeowners think about pool construction, their minds often turn to the warmest months of the year. While summer can be a great opportunity to install a swimming pool, it isn't the best time of year for this type of project.
Instead, consider the off-season to get started on your pool construction. Here are a few reasons why fall is often the best time of year if you want to put in a backyard swimming pool.
Benefit #1: Fall is Ideal Weather for Construction
Not only have the temperatures cooled down a bit, but the weather patterns in the fall season are often ideal for construction. Any type of outdoor project, including pool construction, is easier to manage when the weather is cooperating.
If you wait too long, then the winter might be too wet and messy. Severe weather can even delay your construction, resulting in a longer timeline before completion.
Benefit #2: Enjoy Swimming During Pool Season
Even though summer can be good for pool construction, you want to be swimming in your pool during the summer season – which is why it makes sense to get started on the project as soon as possible.
The reality is that pool construction can take several months when you factor in planning, construction, contractor availability, and more. Plus, once the pool is installed, many homeowners need additional time to add the finishing touches around the pool, such as landscaping, outdoor furniture, and more.
If you want to be planning summer pool parties next year, then right now is the best time to get started with pool construction.
Benefit #3: Contractor Availability Throughout the Year
There's no question that the summer months tend to be the busiest times of year for construction contractors. It can be challenging for homeowners to find providers who are available to help with pool construction during the summer months.
Instead of dealing with long waiting times, it's better to get started during the off season. Specialized contractors have more time available during this time of year. Not only will they be able to give more time and attention for your pool installation project, but you can also expect the pool construction to be completed faster.
Are you wanting to plan the ideal timeline for your pool installation? Then reach out to a few local contractors to find out about their availability and when they will be able to fit you into the schedule.
Tips for Planning Your Pool Installation
You will face many decisions that need to be addressed during the planning phases before your pool installation. Devote the time necessary to get it done right. Don't cut corners during the planning phases!
Our pool installation team is here to help with all of the details for your upcoming pool construction. Here are some of the details we will discuss during your consultations:
Type of Pool: You will need to choose the type of pool that you want to install. In-ground pools can be installed using three methods: concrete, flexible vinyl liners, or fiberglass. There are pros and cons to each of these pool types. So, you'll need to talk to us about your goals, budget, and preferences to choose the ideal materials for your installation.
Cost Considerations: It's no surprise that pool construction can be an expensive project. In addition to excavation services, you also need to pay for labor, materials, filtration systems, and other related features that will be installed around the pool. As a general rule of thumb, concrete pools tend to have the highest price tags, but they offer more customization options. If you are on a tight budget, then consider a fiberglass pool.
Check Zoning and Building: When you are preparing for in-ground pool construction, it's necessary to have permits and approval before breaking ground. Zoning rules and building requirements vary depending on the location. Talk to your swimming pool construction team for more information about necessary permits that need to be obtained.
Invest in Good Equipment: Don't cut corners when you are choosing filtration systems, water heaters, and other equipment that will affect the quality and comfort of your swimming pool. When you install quality equipment, then you have the confidence and peace of mind to know that these systems will continue working for many years with the right maintenance.
How to Choose the Ideal Location and Size for a Swimming Pool
The swimming pool design process can be both fun and overwhelming. Choosing a location for the pool construction is an essential step to deciding on the shape and type of pool that you will be installing as well. Consider these tips to pick the ideal setup for your new swimming pool:
Natural Sunlight: Everyone wants to be basking in the sun while swimming in the water. So, consider trees, buildings, and other obstructions that might be blocking the sun. Choose an area of the backyard that gets the most sunshine possible throughout the day.
Surrounding Features: In addition to digging a hole and installing the swimming pool, also consider other features that will be built around the pool. You'll want a nice patio area, beautiful landscaping, and maybe even an outdoor kitchen to host pool parties.
Dangers Near the Pool: A swimming pool should never be constructed under electrical wires or telephone poles. Also, it's essential to check for potential obstructions underground, such as utility cables, septic systems, sewer lines, and more.
Available Space: Consider the ratio of the swimming pool compared to the size of the backyard. If space is limited, then it is often best to go with a smaller pool so you still have room for other activities in the yard.
Call the Pool Construction Experts
Do you need professional advice and help with your upcoming pool construction? Our team is here to answer your questions and assist with your swimming pool design. We offer personalized services and competitive pricing, with full-service solutions from start to finish. For more information, contact Mid City Custom Pools to schedule a consultation.