4 Ways to Enjoy Your Pool in the Fall
Nov 21, 2017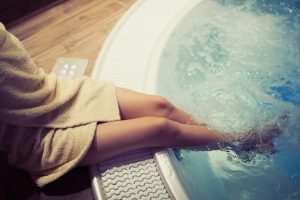 Just because fall is here doesn't mean you can't still enjoy your pool and beautiful outdoor living space. Here in Texas, we are lucky enough to experience pleasant weather throughout the year, allowing us to make the most of our home swimming pool and backyard. Whether you decided to shut down your pool for the fall and winter or leave it open, there are many different ways you can remain outside when the cooler temps have settled in.
We know how hard it can be to say goodbye to summer, especially if you have a pool and beautiful outdoor entertainment area. Thankfully, we are pretty lucky here in Texas and are able to find different ways to enjoy the adaptable weather – no matter what time of year it is. Here at Mid City Custom Pools, we believe in doing everything we can to help our clients find the right solutions for their needs. Whether you have just moved to the area or are looking to renovate your current backyard setup, we are here to help. We offer a wide range of services, from custom pools to outdoor kitchen and fire pit installation. With that in mind, let's look at four ways you can enjoy your pool and backyard space this fall:
Add a Fire pit or Fireplace – One of the most popular (for good reason) ways to enjoy your pool even when the temperatures cool down is by adding some sort of fire element. Your options are endless here – from adding a poolside fire pit to enhancing your covered patio with a fireplace. Regardless of which direction you take it, an outdoor fire feature is a fun way to entertain guests and relax with loved ones – and stay warm while you're at it!
Add a Spa or Hot Tub – Nothing complements a backyard pool better than a hot tub, are we right? This is a great option if you don't want to add heat to your pool, but still want somewhere to relax and soothe your sore muscles during the fall months. In addition to allowing you to stay outside when the weather isn't ideal, a spa has many great health benefits. If this is something you are interested, don't hesitate to contact Mid City Custom Pools so we can discuss our spa options with you.
Add Heaters – Portable gas heaters are another great way to remain outside during the fall and winter months. If you aren't interested in having a fireplace installed, or you are looking for added heat on another part of your patio, gas heaters are a great option. These days there are many different options for heaters, the majority of which are aesthetically pleasing and efficient.
Add an Entertainment Space – Luckily we Texas residents don't have to worry too much about snow or freezing temps, so extending our indoor kitchen and entertainment space to the outdoors is a viable option. There are many different ways to do this, from adding a full kitchen and bar to simply having a nice grill installed.
If you are looking for ways to continue to enjoy your pool and backyard this fall, please contact Mid City Custom Pools today so we can go over some of your options with you. Just because summer is over doesn't mean your backyard fun has to be!