Improve Your Backyard for 2018
Nov 29, 2017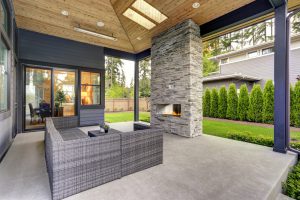 2018 is just a few short weeks ago, which means it is time to start planning all your outdoor projects. Even though you may be consumed by the holidays right now, we recommend taking a break and starting to think about how you are going to improve your backyard in the new year. New Year's resolutions don't only apply to self-improvement, after all. Whether you are thinking about having a backyard swimming pool installed or want to take your outdoor entertaining space to the next level, Mid City Custom Pools is here to help. We love backyard renovation projects – especially seeing the finished project and how much joy it brings to homeowners! There are many different directions you can go when it comes to improving your backyard, and luckily not all the options will break the bank. In fact, there are plenty of ways you can transform your already-beautiful Texas backyard into your own personal oasis.
One of the first things many people do when it comes to renovating their backyard is having a deck installed. If you don't have a backyard deck already, you will be truly amazed at what a huge difference it will make. Not only is this an affordable way to take your outdoor space to the next level, but it looks expensive, is easy to care for, and will last for many years. Pavers are a great way to enhance your backyard vs concrete decking (which is the most common type of decking in Texas). Unfortunately, concrete decking turns grey, gets hard, and will crack, creating a huge headache – and expensive project – for DFW homeowners. There is absolutely nothing you can do when a concrete deck cosmetically cracks, and this is something that will happen no matter how you pour it. This is why we recommend concrete pavers in place of poured concrete decking.
Let's take a deeper look at how concrete and travertine pavers can improve your backyard in no time:
Concrete pavers come with a lifetime warranty against cracking

This is true of both travertine and concrete pavers

They look much higher quality than concrete decking
They are much stronger and hold up to the test of time
They are easy to install

This is a huge advantage, as you will have a transformed backyard in no time!

They are easy to repair
They carry a non-slip surface, making them ideal for yard with in-ground pools
They come in a wide variety of shapes, colors, and materials
Come see us at Mid City Custom Pools in the coming months, we are offering a winter paver decking special and would be happy to discuss our options with you! We follow paver installation standards set in place by the Interlocking Concrete Pavement Institute (ICPI) and exceed expectations per the institute. For more information on our concrete paver services, please contact Mid City Custom Pools today. Our experts would be happy to talk to you about the benefits of this type of decking for your DFW home, and we highly recommend getting started soon so your backyard is ready for 2018!