Most Popular Home Swimming Pool Features
Feb 09, 2017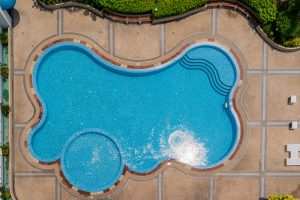 Simply deciding to have a home swimming pool installed is not where the decision-making process ends, unfortunately. There are tons of minute details and features that you will have to decide upon in order to make your pool truly yours. While this may seem daunting to the first-time homeowner, there is something exciting about customizing your home swimming pool and finding the features that speak to your style and aesthetics. These days there are many different options when it comes to swimming pool features and designs. From waterfalls and unique lighting to clean and easy lines, the world is your oyster when it comes to finding the right swimming pool features.
It's safe to say that most people don't have a lot of experience with customizing their home swimming pool, which is why we are here to help. The number of choices out there can make the process seem overwhelming if you aren't careful, but we are here to help you understand what some of the most popular home swimming pool features are so you can decide for yourself if they are right for you. It is easy to make mistakes when it comes to deciding on what swimming pool features to go with, but we are here to take some of the pressure off and help you figure out what will work best in your yard. With that in mind, here is a look at some of the most popular swimming pool features right now:
Glass Tile – One of the top design trends we are seeing right now is homeowner opting for glass tile. This adds a sophisticated, luxurious element that can elevate any home swimming pool in the blink of an eye.
Clean Lines and Elegance – Given the first bullet point, it should come as no surprise that homeowners are leaning towards clean lines and elements that add elegance to their backyard pool. By using materials and adding small touches here and there to exude class and elegance, homeowners are able to transform their home swimming pool to one you would find at the most high-end luxury hotel.
Travertine Coping – This type of tile is one of the most popular for home swimming pools right now. Travertine is a type of natural stone that is often used for paving patios and garden paths. It typically comes in either marble or limestone and makes a beautiful addition to any home swimming pool.
LED Lit Bubblers – LED lights are all the rage right now, including when it comes to lighting water features in home swimming pools. They add a unique, mesmerizing element that truly will transform your pool and backyard space into a magical wonderland.
Lights on Sun Deck – Many homeowners are going the extra step and lighting up their sun deck these days, which can enhance the entire backyard space in just the right way.
Water Features – As always, waterfalls and other light-up water features are a popular design choice amongst homeowners. There is just something soothing and relaxing about the sound of water and stunning backdrop to go along with it. Mid City Custom Pools offers a wide range of water features, allowing you to choose the one that best fits your style and design needs. As with most of the other popular features mentioned, today's water features are clean, sleek, and elegant. The materials and other components used are designed to impress without going overboard, providing homeowners with a unique backyard experience they will never grow tired of.
We believe in offering a range of swimming pool features that kids and adults alike will love. We understand what a big decision it is to have a custom swimming pool designed for your home, which is why we are committed to working closely with you to ensure the finished product is exactly what you had in mind. To learn more about our custom swimming pool services or to schedule a consultation with us, please contact Mid City Custom Pools today.