Top Trends in Home Swimming Pool Design
Jan 30, 2017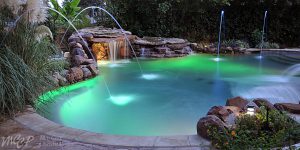 Swimming pools come in many different shapes and sizes – from traditional rectangular pools to oval and more unique, custom designs. If you are thinking about having a swimming pool installed in your backyard, you may want to see what others are doing. Swimming pool design trends evolve constantly, oftentimes depending on what features have hit the market. Thanks to the booming industry, homeowners now have more choices than ever when it comes to the design of their home pool and other backyard surroundings. From water features to unique shapes and patio fire pits, the world of swimming pool design is truly your oyster.
There are many different ways to add interest and character to your pool and backyard overall. Right now, many homeowners are taking on a complete transformation with the intention of enhancing their outdoor living experience. Over the last several years, people have begun to realize the potential of their backyard living spaces, opting to turn them into functional, beautiful areas with numerous luxury amenities. In Texas, we are seeing homeowners complement their backyard swimming pools with expansive outdoor kitchens, entertainment systems, fireplaces, couches, and so much more. People today are looking to make their outdoor living area a whole new experience that can be enjoyed year-round.
With that in mind, let's take a look at some of the top design trends in swimming pool design right now:
Function – Homeowners are now realizing that function is just as important as fashion, so to speak. In-floor cleaning systems are becoming more popular in Texas, as are energy efficient pool equipment. Many people are even going solar with their home pools, which is an eco-friendly and cost-effective way to go. People are discovering that you can have an aesthetically beautiful swimming pool that is also functional, which is driving current pool trends today.
Aesthetics – Every year it seems as though new swimming pool and outdoor living features are introduced, many of which change the way people think about and design their backyards. Right now we are seeing a lot of glass tiles, Belgard pavers (which is something Mid City offers), and a clean geometric design over the rock pool design. As mentioned above, many people are having their pools redone in order to meet current demands and add in new features. One of the hottest design trends we are seeing throughout Texas is vanishing edge pools, which creates the illusion that the water goes on forever. This also provides a finished pool that is luxurious and is reminiscent of high-end resorts somewhere in the Greek Isles, which is never a bad thing!
When it comes to your home swimming pool, your design options are endless. This is one of the best parts about taking the plunge (no pun intended) and deciding to move forward with a brand new home swimming pool or a pool renovation. You can choose from a wide range of pool shapes, materials, features, and so much more. You can even add combined elements of fire and water to create a truly mesmerizing focal point and enhance the appearance of your home pool. Regardless of what direction you want to go with your swimming pool design, the Mid City Custom Pools team is here to help. To learn more about the materials and features we offer, please do not hesitate to contact us today.