Is Your Backyard Missing an Outdoor Kitchen?
Sep 12, 2018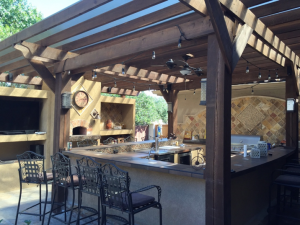 Your backyard is a huge part of your life. It is a place where you spend a lot of time with your loved ones, friends, and family. Come winter, come summer, you want to make the best out of your beautiful backyard that you have put so much time, effort, and money into. It's the perfect place for a summer swim, a winter hot tub, evening happy hours, family time, a place for the kids to play, etc., but it could actually be a place for so much more.
Having an outdoor kitchen is an incredible addition to your backyard. It will transform your backyard into more than you could have imagined and open up even more opportunities for you to spend time with your loved ones outside. Having an outdoor kitchen creates for entertaining opportunities, convenience, an expansion of your living space, resale value, and a great place to grill.
Entertainment purposes
Your backyard is the perfect spot to hang out with your family and friends. Having an outdoor kitchen creates for the ultimate backyard entertainment space. Everyone can spend time together while dinner is being made right there in the backyard, while you all enjoy nature, your backyard, and each other. With a kitchen right in your backyard, you won't miss out on the fun. Everyone will be hanging out right along with you while dinner is being prepared which will make it way less of a hassle. It will amaze you how much more you will get out of your backyard by installing an outdoor kitchen.
Convenience, Luxury, & Comfort
One of the ultimate benefits of having an outdoor kitchen is the convenience. Keep the mess outside, instead of having to dirty your kitchen and then bring in more of a mess from the outside. The BBQ smells will remain in nature and not inside your home, and the whole dinner process will be much easier as a whole.
Expansion of Your Living Space
Adding a backyard kitchen in Trophy Club, means expanding your living space. If you love entertaining friends, or have a big family, either way you will really enjoy the extra space. Your outdoor cooking set up will give you so much more out of your already loved backyard, you may even forget about the indoor kitchen.
The Food
It's simple. Everyone knows that food from the grill is just better. Enjoy making your food over a fire and give it that special BBQ taste that we Texas are known for. Wrap up some shish kabobs or make some steaks and sausages, either way, you are really going to love that outdoor grilled taste.
You love your backyard, and now, your outdoor kitchen, so why not love it even more by installing or renovating your dream pool? Mid City Custom Pools can help. If you have any questions or would like to schedule a consultation, contact us today.