Is Your Backyard Ready for Spring Break?
Mar 02, 2018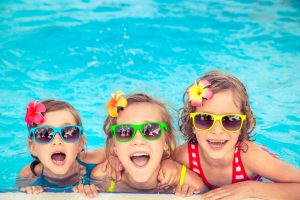 March is here, which means Spring Break for many Texas kids. The weather has been downright balmy and warm lately, so it's no wonder we are dreaming about spending time in the pool. If you are sticking around town for Spring Break, it may be time to think about getting your backyard and swimming pool ready for some fun. If you chose to winterize your pool like many people do, now may be a good time to take that pool cover off and rid the water of any leaves, branches, or other debris. Before it's safe for you and the kiddos, your pool will need to be cleared of all the gunk and the water restored to its proper chemical balance.
But the pool isn't the only thing that may require your attention before school is out for Spring Break. While many people have to travel to warmer climates for Spring Break, we are lucky enough to be able to soak up the sun and warm rays in the comfort of our very own backyards! Whether you are hosting family members, friends, or other loved ones this Spring Break, be sure you take the time to get your pool and outdoor living space in pristine condition. This may seem overwhelming, especially if you haven't had the opportunity to get out in the yard yet this year, but it will be worth it in the end.
Top Considerations
If you aren't quite sure where to start when it comes to getting your backyard and pool ready for Spring Break, take the following into consideration:
Did you choose to shut down your pool for the winter?
Have you been maintaining your pool/spa on a weekly basis?
Are the pool heaters working properly?
Have you used your outdoor kitchen this summer?
Do you use a gas heater on your patio? If so, do you have plenty of propane to keep everyone nice and cozy once the sun goes down?
How does your deck or patio look? Could it use a good old fashioned power washing?
Is there visible calcium buildup around the edge of your pool?
Did you put away all the floats and other fun pool accessories for winter?
Does your patio furniture need to be cleaned off?
Are all the lights in your pool and around your outdoor entertaining space working?
And finally: Are you ready to entertain?
Asking yourself should give you a good place to start when it comes to getting ready for Spring Break. Everyone is different, but tackling these pesky spring chores before the kids are out of school for the week will save you a lot of time – and help your sanity, too. If you did winterize your pool and are in need of someone to help you get it ready and make sure it is safe for the masses, give Mid City Custom Pools a call. We offer regular pool maintenance services and more to homeowners throughout Southlake and neighboring areas. We are here to help you get ready for one of the most anticipated weeks of the year, so give us a call today and schedule an appointment!