Why You Should Enhance Your Backyard with a Fire Feature
May 17, 2017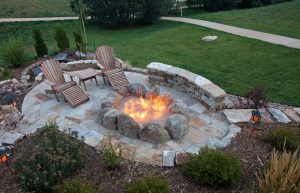 Why should you enhance your backyard with a fire feature? To be able to enjoy your backyard all-year-around. You've spent the money to make your backyard beautiful and enjoyable for summer – which is about (plus or minus) 3 months of the year – so, why not make your money count and receive the greatest value by being able to enjoy it during every season? By adding a fireplace or fire pit to your backyard, you will be able to enjoy your personal paradise during the summer, fall, and winter. It creates an excellent atmosphere for parties, small get-togethers, or just some 'me time' with a nice book and a 'cup of joe' (or glass-a-wine).
Not only will a fire feature enable you to spend more time in your backyard, but it adds so much to your backyard aesthetically speaking. For fire features that give off warmth and ambience, from fire features that are characterized by just the aesthetic appeal, there are some amazing options available. Grand Effects Fire Bowls, Fire Pit Inserts, Grand Effects Fire Water Bowls, are all some beautiful options that can all add immense aesthetic appeal to your backyard project. [You'll have to wait until our next post before we can tell you more about the Grand Effects Fire Water Bowl, as this post is especially reserved for talk of fire features.]
Still not convinced? Let us give you a few more reasons as to why you should add a fire feature into the mix.
A survey by the American Society of Landscape Architects conveyed that 97% of homeowners ranked fire pits and fireplaces as their number 1 most-desired backyard design addition.
Fire pits create a beautiful gathering space, but also an aesthetically-pleasing focal point for the layout of your backyard.
Fire pits and other fire features are great for additional lighting (and heating). It is a feature that illuminates not only light, but beauty, and ambience as well.
 With all the different shapes and sizes, you're bound to find a fire feature that's right for you.
Fire pits drive away the bugs! We all know that during the moist and hot summer months, we hardly want to sit outside because of all the mosquitos, etc., but fortunately, fire encourages them to keep their distance.
Depending on the type of fire feature you prefer, it can double as a cooking area. Grab a rack and some foil-wrapped kebabs, and sit and enjoy your backyard and your company while simultaneously making some dinner.If you're looking for just the right addition to your backyard project, we think after reading this, you might have found it. With all these reasons, it's pretty easy to see the vast amount of value that a backyard fire feature can be of to you. If you love these ideas as much as we do, and are looking for an outdoor fire pit in Southlake, or fire features in Colleyville, here at Mid City Custom Pools we can help. So please, don't hesitate to contact us today.