How to care for your pool after the Texas rain
Jun 20, 2017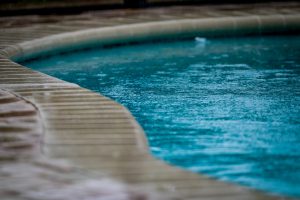 You love your pool, it brings you and your family and friends so much enjoyment, relaxation, and fun. And after putting time and money into such an investment, of course you want to take the best care of it that you can. One of the concerns of having a pool, is what to do in order to ensure its care after a heavy Texas rain. If you have lived in Texas for long, you know the weather does exactly what it pleases. You can switch from one climate to another in days, even hours, and sometimes it leaves you unprepared for things like cold fronts and storms. After heavy rains, debris and foreign objects can get washed into the pool. These various substances and debris can lead to an imbalance of your pool's water chemistry, as well as put added strain on all of your pool equipment. It's important that you take the proper steps in order to reduce any potential worsening problems. Common problems consequential of a downpour can include clogged filters (from the excessive pressure), cloudiness, algae, etc.
Here are some tips and steps you can use to ensure the care of your pool after a rainfall:
First, clean the pool
As soon as you notice any excess debris or foreign objects that have been blown or washed into your pool, use your pool skimmer first to remove what you can. After removing the bulk of the debris, leave the rest to your automated pool vacuum/cleaner to do pick up any left behind dust or dirt.
Second, make sure the chemistry is right
As a result of acid rain, and various foreign debris, the chemical balance of your pool can be offset. It's important to follow up a storm by checking and testing the alkalinity and pH levels of the pool.
Third, check your chlorine
Storms can also offset your chlorine levels. Check your pool to make sure the sanitizer and chlorine levels are still in order after heavy rains. Unwanted contaminants are often carried into your pool by the rain water, and the sanitizing levels can be left low from the excess work.
Fourth, check the water level
It's important for your pool to not be too full, and with added rain water this can occur. You should use your filter's waste setting to drain and take care of excess water levels and get things back to normal.
Fifth, take a closer look at your equipment
With the blowing and washing of said foreign items and debris, sometimes things can get caught up in your equipment or overload it. This can cause expensive damage. Make sure to check your equipment and make sure it is still running and in proper condition after a storm.
And finally, shock and balance the water
In order to make sure your chemicals, chlorine, pH and alkalinity levels are set, an easy way is to shock the pool and readjust the chemicals. This will give you absolute certainty and confidence that your pool is in healthy order and safe to swim in again.
If you're looking for help with pool care in Colleyville, or some assistance in pool maintenance in Southlake, here at Mid City Custom Pools, we are happy and eager to assist you! Please, don't hesitate to contact us today, and let us help you enjoy your pool to the fullest.