Is it time to remodel your pool?
Jun 21, 2017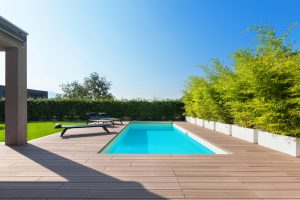 It's summer, and it's hot. Really hot. You love your pool, and so do all your friends and family, and especially during these scorching hot Texas summers, it's a necessary amenity. It's probably the place you spend the most time during the summer. When you walk into your backyard, the main focus that draws your eyes in, is your pool. Pools add a ton of value to your home, and add so much fun, relaxation, and enjoyment to your family's and friend's lives… but if you have found yourself walking outside and feeling a little bit stressed, or perhaps avoiding eye contact with your pool, something is wrong. Maybe you should ask yourself, is it time for renovation?
If you aren't sure, let's see if we can take some steps to help you figure it out… Here are five reasons why it might be time to remodel your pool.
1. There's damage
Over time, your pool goes through a lot. With constant exposure to ultraviolet rays, and the weekly endurance of harsh chemicals, over time, it will start to wear out. Regardless of what your pool's base is constructed from, it can only take the 'heat' for so long. Whether you are noticing cracks, deterioration, or fading, letting these 'small' looking problems go, can later result in increased damage to your pool, and to your wallet. The biggest related problems of letting things like cracks go, or in the case of vinyl liners, letting wrinkles and stretching go unfixed, is potential leakage. Leaks need to be corrected right away.
2. Making your pool more fun
Pool technology and additions have really grown in innovation and popularity, and it is probably time you hopped 'on board' (pun intended). From arches, to lights, to the new sun shelf, deck jets, and various additional water features, there is so much more you can do to love your pool!
3. Your pool might be outdated
Having a pool that is out-of-date, can take the fun, the relaxation, and the luxury out of having one. Even just minor cosmetic changes can make a huge difference, you'd be surprised! And we promise, you will not regret it.
4. Additional safety
If you have kids around the pool a lot, which most pools have a tendency to draw them in, safety is a huge concern. Especially if you have young ones around, and you just want to enjoy your backyard worry free, fence installation around the water, equipped with alarms [for when they are opened] can be a huge relief/necessity. It only takes a second to lose sight of a child, and you should take all precautions to prevent it.
5. It can save you money
With all the latest pool technology, the newest renovations can end up saving you a lot of money on pool maintenance, etc. Most new options out today are much more energy efficient, and various pumps, solar pool covers etc., can end up saving you up to 75% of your current pool bill.
Pools can add so much value to a home, but they can also take it away if your pool is out of shape and out of date. If you are in the area, and have reached a point of realizing it's time to update, you will probably need to contact a swimming pool builder in Colleyville or Southlake, Mid City Custom Pools is who you need to call! Contact us today, and let's get the pool party started.