Water Feature Ideas to Add to Your Pool (Part 3)
Jun 14, 2017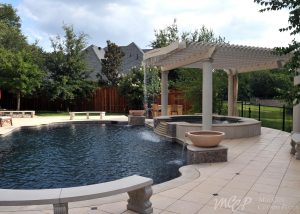 Maybe you have just finished building a beautiful pool, maybe you just need to add that last final touch, or maybe you are looking for an easy way to update your backyard/pool area, but just aren't sure how; in any of these cases, you should look into Grand Effects Water Bowls. These beautiful pool accessories will add so much to your backyard with very little effort required. They are easy to install and easy to run, requiring low water flow at 15 GPM. They also include mounting hardware and come with a one year warranty. The bowls are constructed of the highest quality materials and come in multiple different designs, sizes, and shapes so that you have more options to choose from.
The various materials available for the water bowls consists of choices from the concrete bowls, copper bowls, and metallic bowls. The three different types also come in different styles and with different finishes, expanding your options even more and ensuring the customization of your backyard design ideas.
The concrete bowl incorporates a concrete fiberglass mix; this creates for a structurally stronger bowl that is still lighter than typical mixes made of 100% concrete. These beautiful pieces are finished by means of a hand applied process of multiple stains and washes and are finalized with a wax seal. With the wax seal, the bowl gains a protecting layer and deep radiant finish that will guard it against discoloration and fading from various environmental factors.
The copper bowls are gorgeously handmade and consist of an oil rubbed bronze finish. In order to obtain its bountiful look, the bowl undergoes a heat-setting of the copper to a patina finish. Regular use and maintenance allows the living patina finish to endlessly regenerate.
As for the metallic bowls, they are constructed with the highest quality, by means of a heavy gauge aluminum. The aluminum surface is sand blasted and treated with an anti-corrosion process. Finally, the bowl is powder coated with a dynamic selection of colors, in turn creating a beautiful, durable, and long lasting finish.
If you want to take it up another notch, you will be amazed by the incredibly mesmerizing and beautiful Grand Effects Fire and Water bowls. Similar in design and style to the water bowls, these bowls include an additional fire feature built within the water bowl. These bowls will add so much to your backyard or water feature, and will create a gorgeous focal point for your landscape designs. Again, you are able to choose from various styles and designs from the concrete, copper, or metallic material options.
The Grand Effects Fire and Water bowls are also available with either a "Manual" operating system, or the amazing "Automation" operating system. The innovative technology incorporated in these devices is reliable and is a CSA approved packaged unit that is factory tested. Along with the Grand Effects Water Bowls, these are also easy to install and require low water flow at 15 GPM. The system works with any home or pool controller, i.e., Hayward's Pro Logic or Jandy-Aqualink. The coolest addition? You can sync these incredible features with your phone in order to control them with the push of a button on your smart mobile device. They also sync seamlessly with Pentair Automation options.
We know you'll love these incredible backyard water and fire features just as much as we do. And we are certain they will add that final touch or update that you have been desiring. If you have been searching for backyard water features in Colleyville or Southlake, look no further. Here at Mid City Custom Pools, we are excited to help you imagine your dream backyard into reality. Don't hesitate to contact us today, and let us help you achieve your innovative design goals.