Choosing an Interior for Your Pool or Spa
Apr 28, 2017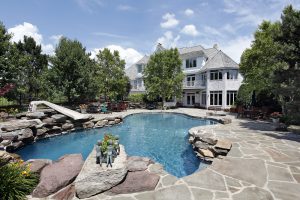 The beauty of designing a new pool or spa is that you get to build exactly what you want, with every detail matching your imagination. Here at Mid-City Custom Pools, we aim to make your dream pool a reality. However, when making choices about your new pool or spa, it's important to be informed and make educated decisions.
One important choice you'll make with your pool or spa is choosing the interior finish. We offer 3 choices, each with unique benefits and drawbacks. Review the points below, and make a decision that works best for you. 
White Plaster. This is the least expensive interior finish to install. The white plaster finish has been used in pools for decades, and is common throughout the industry. Unfortunately, the major drawback of white plaster is that it does not maintain a clean white color for long, and over time starts to look unattractive. This is just a natural consequence of the color and material. Warranties for white plaster finishes are short, and will not cover discoloration.
Quartz. Quartz is a middle-priced option, which has the benefit of being very attractive when initially installed. A quartz finish can help to create a beautiful water color. However, Quartz is very difficult to maintain. You must carefully balance water chemistry at all times when using a quartz finish. The product will roughen over time, and is covered by a 5-year warranty.
Pebble. Our most popular finish is pebble. The main reason for this is that unlike the other interior choices, a pebble finish is very durable and will not degrade in appearance or function over time. Although pebble is the most expensive finish option initially, it will last much longer than other finishes – in fact, pebble finish is considered a lifetime product. Pebble also offers a wonderful natural appearance for the water, and will not change in texture over time. We offer a 15-year warranty on pebble finish, much longer than other options.
If you're starting the new pool design process, we hope you'll consider these options carefully and make an informed decision. To learn more about the pool design and building process, please contact Mid City Custom Pools today.