Soil Treatment On New Pool Construction
Apr 30, 2017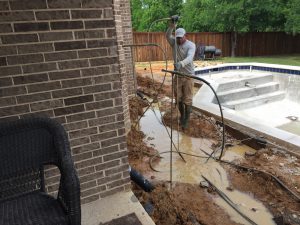 It's rainy season here in North Texas, and so it's a great time to discuss the impact of heavy rain on our soil. Soil in North Texas is notoriously challenging to work with, and in fact is one of the most expensive types of soil to manage in the United States.
The clay soil swells up like a sponge when exposed to heavy rain, and then shrinks down like a raisin during the dry season. These dramatic shifts in soil saturation can have a negative impact on any type of construction project, including pools, decks, outdoor living installations, and more.
We Are Experts at Building in North Texas
Few pool construction companies have the experience in North Texas that Mid-City Custom Pools does. Through our many years of experience building custom pools in North Texas, we've developed a unique process to manage the challenging soil conditions and ensure that your pool lasts through many years of Texas heat and rain.
Before and during your pool construction project, we treat the soil with an organic compound that maintains the plasticity index of that soil, within an inch. This is a proactive solution to the problem of expanding and shrinking soil that will help prevent problems before they happen.
Treating Soil Will Save You Money
Applying our soil treatment before you build is absolutely the most cost-effective solution to soil instability. Failing to apply such treatment during the construction process could result in very costly repair projects, and most likely, you'll have to treat the soil during the repair anyway! We always strongly encourage our customers to be proactive and not reactive, to save money and headaches in the future.
There's a reason the foundation industry in Texas is a multi-billion dollar market. There is absolutely no warranty for ground movement in the state of Texas, especially in North Texas. If your home, pool, deck, or anything else experiences a failure due to soil conditions, you will have to pay out of pocket for the repair. By treating the soil before you build, your project will be on solid ground for a long time to come.
Our Soil Treatment is Guaranteed
Our soil treatment on your pool or decking comes with a 5-year money back guarantee. However, truthfully in our 10+ years of experience applying this treatment to pool construction projects in North Texas, we have not had a single failure. The product works 100% of the time!
If you're interested in building a new pool in North Texas, you should choose a professional firm that has deep experience in the area. Here at Mid City Custom Pools, our experts have been designing and building some of Texas' most beautiful outdoor pools since 1973. Contact us today for a free consultation.