Owning a Swimming Pool Can Change Your Life – Literally
Apr 26, 2017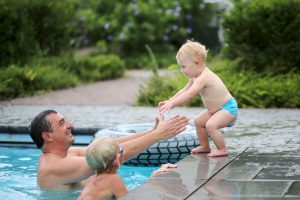 Here at Mid-City Custom Pools, we take pride in each and every pool construction project we complete. We love building because we believe that owning a pool is one of the most powerful ways you can improve your home life.
How can a swimming pool change your life, and your family's life, for the better? It's not just about aesthetics. It's about how the pool lifestyle makes families closer, healthier, and happier. Read on to learn more…
Create family time. During a hot summer day, there's nowhere your kids would rather be than enjoying themselves in your pool. Even with all the digital distractions faced by kids today, a swimming pool is still their first choice. Your whole family will come together for summer pool time, in a way that vacations and other planned events just can't replicate. There's no better way to create fun family time for everyone than a beautiful inground pool.
Fitness for the Whole Family. Everyone knows that staying fit and healthy is important, but most people find it challenging to get to the gym, and most people don't enjoy hours of dull treadmilling. A pool is an amazing way to get fit while having fun, all in the comfort of your own backyard. The fitness benefits aren't just for mom and dad either. Playing outside in the pool is a great way to help keep your kids healthy and avoid the many health conditions that can result from too much indoor screen time.
Meeting the Community. Once you've built a beautiful custom pool, don't be surprised if friends and neighbors start inviting themselves over! Owning a new pool is a fantastic way to reignite local relationships, meet your children's friends, connect with neighbors, and more. In today's society, many communities have become sadly isolated, with people not knowing their neighbors and not being involved in local issues. We've had many clients tell us that a surprising benefit of pool ownership was starting new friendships and feeling more connected to the community.
Stress Relief and Mental Health. Families today are stressed. People are busy, have many obligations, and often we don't make sufficient time to relax and attend to our mental and spiritual needs. We've heard from our clients over and over again that swimming has proven to be an effective way to lessen stress and take some time to relax. Some people like to do laps alone to get some quiet time, others find family fun most relaxing. Whatever your preference, a pool is a surefire way to improve your mental wellbeing.
Save Money and Time on Staycation. These days with all the hassles and fears associated with travel, more and more Americans are choosing to spend their vacation time at home. Well, it's no secret that perhaps the best part to your family's staycation is your beautiful new pool! When you consider the cost of a family vacation, and how short such vacations often seem, you'll see how building a pool actually saves money on travel costs, not to mention all the hassles of travel as well.
These are just a few examples of the many benefits of pool ownership that we've experienced through the years. If you're thinking of improving your life with a custom pool of your own, don't hesitate to contact us today. We'll give you a completely free consultation to help you understand your options, costs, and how best to move forward in creating your dream pool.