Pool Fences Save Lives
Oct 29, 2020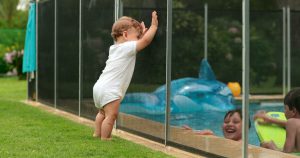 Pool Fences Prevent Accidental Drowning
Swimming pools are one of the most exciting additions you can make to your home. They offer fun for the home family, a chance to cool off in the summer months, and a place to relax after a long day. Who wouldn't want a swimming pool? Even with all of these great benefits, swimming pools are not all fun and games.
Anyone thinking of jumping into a pool should be a competent swimmer. If they aren't, then someone else should be nearby for supervision. Additionally, they should be wearing a lifejacket or other safety gear to keep them from drowning. However, far too often, people suffer from accidental drowning. Often, small children are the victims.
Whether from jumping in the pool when no one is looking or accidentally falling in, drowning is a real danger that all swimming pools present. That is why it is essential to invest in quality pool fences to keep you and your loved ones out of harm's way. While it might not seem like a quality investment right away, it will more than makeup for itself.
As a premier DFW pool builder, Mid City Custom Pools understands how fun and exciting swimming pools can be. But we also understand the dangers they present. That is why we recommend all pool owners to invest in pool fences. After all, pool fences save lives.
Drowning Statistics
Accidental drowning is a serious threat that comes with owning a pool. While any body of water can lead to drowning, residential pools are often the culprit in many of these cases. While not every case is fatal, many often lead to emergency room visits. Unfortunately, children are often the victims of residential drowning incidents.
To understand the importance of owning a pool fence, here are some essential statistics all pool owners should know:
In the U.S., an average of 3,500 to 4,000 people drown every year, averaging ten fatal drownings every day.
An estimated 6,400 pool or spa-related nonfatal drowning injuries that required emergency room treatment occurred every year between 2015 and 2017.
1 in 5 people who die in drowning accidents are children under the age of 14.
Drowning ranks fifth in leading causes of unintentional injury deaths in the U.S.
Boys younger than 15 are twice as likely to drown than girls.
For every child that loses their life in one of these accidents, another five receive emergency care for nonfatal injuries.
Drowning is the leading cause of unintentional death for children between the ages of 1-4.
87% of drowning fatalities involving children under the age of 5 happen in home pools or hot tubs.
23% of child drownings occur during a family gathering around a pool.
74% of reported deaths occurred in residential pools or spas.
Drowning can occur in as little as 20-60 seconds.
As you can see, drowning is a real threat that all pool owners could face. That is why all pool owners should invest in quality and sturdy pool fences to help protect themselves and their loved ones.
The Importance of Pool Fences
While homeowners build swimming pools to give them and their family something to fun to do at home, many of them don't immediately think of the risks. Yes, nobody wants to focus on the negatives of anything. However, as the numbers above prove, ignoring these risks could be the difference between life and death.
Arguably one of the best ways to protect you and your loved ones is with pool fences. According to the Center for Disease Control and Prevention (CDC), completely isolating all four sides of your pool with a fence reduces the risk of a child drowning by 83%. As you can see, pool fences are a proven way to keep everyone safe.
Here are some more benefits of owning a pool fence:
Improves Safety
While pool fences are not pet- or childproof, they do provide an added level of protection to your pool to prevent accidental drownings. If a parent loses track of a child, a fence provides them with extra time to find and protect their child before tragedy strikes. After all, 77% of children were seen five minutes before someone found them in the pool.
That means the added time a pool fence provides could be the difference between life or death. These fences should be over four feet tall to prevent children from climbing over them.
Plenty of Options
One reason homeowners opt-out of installing pool fences is because it doesn't match their backyard aesthetic. However, that couldn't be more wrong. There are plenty of options to choose from when installing your pool. You will definitely find a style that matches the design of your swimming pool and entire yard.
Worth the Investment
The cost of a pool fence depends on a number of factors, from materials used to the size of your pool. While it may seem like the cost of purchasing and installing a pool fence isn't worth it, that cost is nothing compared to the cost of losing a life. Even something as simple as a mesh fence can save lives.
Gives You Peace of Mind
When you install a pool fence, you can rest easy knowing that you have taken steps to keep your family safe. When you aren't home, or your kids don't have parental supervision, you can have peace of mind knowing that they are safe. Most pool fences are self-closing and self-latching, meaning you don't have to worry about a fence door remaining open. Also, these latches are hard for small children to unlatch, preventing them from entering the pool.
Other Pool Safety Tips
Teach your children how to swim.
Make sure all children and poor swimmers have adult supervision.
Keep safety accessories (lifejackets, rope and float line, ring buoy, etc.) on hand in case of an emergency.
Invest in a pool cover to avoid accidental fall-ins.
Get CPR training to be ready in case of an emergency.
Swimming pools are a fun amenity that everyone can enjoy. Whether you want to have fun, cool off, or relax, a swimming pool can do it all. However, with this fun also comes dangers. Drowning is a prevalent threat. You must take the necessary precautions to keep you and your loved ones safe.
Pool fences are one of the most effective ways of doing just that. To learn more about installing a pool fence or if you are ready to start building your own pool, give Mid City Custom Pools a call today.