COVID-19 Impact: How Pool Construction is Being Affected
Sep 15, 2021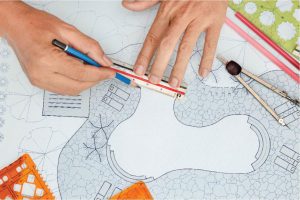 When COVID-19 first appeared in 2020, some predictions pointed to the construction business taking a massive hit as people hunkered inside their homes. Fortunately, that didn't end up being the case. In fact, the demand for pool construction is booming during the pandemic.
The construction industry as a whole has reached a high during COVID-19. There was even a shortage of lumber for many months due to the high demand. We will discuss many reasons why homeowners decide to install a new pool during COVID-19. But first, let's ease your mind about safety protocols.
COVID-19 Safety Procedures in Pool Construction
First and foremost, safety procedures during COVID-19 are taken very seriously in the construction business. When it comes to pool construction, you will find a number of precautions in place to keep homeowners and workers safe:
Virtual Consultations: We can set up virtual consultations for those initial visits. After we learn what you would like for your new pool construction, a member of our team can come and measure the space and take pictures of the site. You do not have to worry about inviting a contractor into your home in order to get your construction project started.
No-Contact Construction Work: Each day we show up to work, we can accommodate the homeowner's preference for communication. For example, if you would like a phone call each day to update you on the project, we can do that. On the other hand, if you would like us to speak in person, we can allow for social distancing as we get you up to speed on your pool construction during COVID-19.
Hand Washing and Social Distancing: Our team members have learned what it takes to stay safe during the pandemic. With frequent handwashing and social distancing during the construction phase, we can keep our workers safe so that the project can move forward as planned.
Masks at Homeowner's Comfort: Our contractors will always work to appease the homeowner's requests. We can wear masks as requested, indoors or outdoors, when not able to social distance.
Health Screening for Workers: We strictly counsel our employees to do a health screening before coming into work. They do not go to work if there are any signs of sickness to protect others and care for themselves.
It is our responsibility to keep the homeowners safe who we work with each day. As the demand for pool construction during COVID-19 continues to grow, it is vital to keep our workers safe and our business moving forward so we can be available to serve our clients.
Why Is Pool Construction So Popular During COVID-19?
While many people thought that homeowners would stay inside and save their money for a rainy day, only part of that came to fruition for those who were lucky to stay employed through the pandemic. Here are some reasons why pool construction during COVID-19 is a booming business right now:
24/7 at Home Leads to Improvement Needs: Once everyone had their household all at home during COVID-19, working, schooling, exercising, it became apparent to many homeowners that the house needed updating. Some homeowners choose to build onto their home, finish a basement, or close in a home office. While others focus on extending the space of their home by updating their backyard as an extra outdoor living space. Outdoor kitchens, couches, rugs, fire pits, and new pools are all a part of backyard makeovers. Once the backyard is updated to be comfortable and inviting, the indoors feels less crowded with everyone at home.
Private Entertainment Options: Some of the activities you would usually do for entertainment are no longer comfortable during COVID-19, such as going to the movies, waterparks, and indoor restaurants. When homeowners choose pool construction during COVID-19, they can entertain and gather in a private space where they have control over social distancing and COVID-19 safety protocols. In addition, home movie theaters and pool installations are a way that people can bring entertainment to them.
Staycation When Travel Isn't Safe: Along those same lines, homeowners were accustomed to traveling every few months and no longer find that to be appealing. If you can't go out and see the world, you can bring pieces of vacation to your home. A new pool and spa are just the way to create a luxurious evening by the pool right in the comfort of your own home.
Extra Money from Budget: Many people started working from home during COVID-19, which saves a ton of time and money that used to go toward commuting. Combine that saved money with the funds that are going unused in the vacation budget. Then you can reallocate those funds to put in a new pool and make the updates in your home that you always wanted.
There are endless reasons why the time is now to start on your pool construction for your home. When you find a contractor who will listen to your concerns and work hard to keep the promised timeline, you can feel at ease as you start your new construction. Just imagine having your own pool to lounge around, swim laps, and play with the kids in your own backyard.
Find the Right Contractor Today
When looking for the right contractor for your new pool, you want to ask for samples of their work. You can ask for their expertise when it comes to the sizes and shapes of a pool in comparison with the size of your backyard. And then, you can ask about safety procedures and time estimates. When you choose our team at Mid City Custom Pools, we will be transparent with our answers and leave you feeling at ease.
If you are looking to install a pool in your backyard, you can find trusted pool contractors who will get the job done efficiently and safely during COVID-19. For more information, schedule an appointment at Mid City Custom Pools today.