Tips for Hiring the Right Pool Installation Company
Aug 16, 2021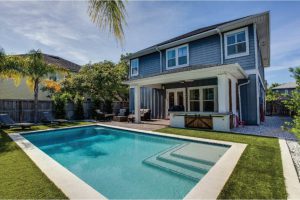 You're finally ready for the pool of your dreams. You've waited, you've saved your money, and you can almost feel the cool water rushing over your skin as you dive in with your kids. But, the pool installation company you choose needs to get it right so you can enjoy your pool sooner rather than later!
The pool that you're imagining is nice, right? It demands little upkeep and works how it should. The finishes are beautiful, and all the materials seem to be holding up through the hot summer and for years to come.
So how do you get that dream pool? How do you know who to trust with your hard-earned money and hopeful dreams? When looking for the right pool installation company, let's look at some of the most important tips you can rely on.
7 Helpful Tips for Hiring a Pool Installation Company
Make sure the company you hire is licensed and insured. Real professionals will have both a business license and insurance. Your pool installation company will be working with water, electricity, and gas. You want to make sure that they are safe and insured in case something does happen.
Are the technicians well trained and certified? When the employees and technicians that work for the company you are hiring are qualified and trained on the most up-to-date materials, equipment, and installation processes, you can trust that they will do the job correctly. In addition, the chances of big problems occurring during installation and after are decreased immensely with properly trained pool technicians. Get educated on what kinds of certifications are required and available.
Did you do your research? If you choose the first company that you find, you will probably wish you did more research on the company. This is because there are so many different pool companies to choose from. Check out several of them before making a final choice on who you're going to hire.
Did you read reviews? They can be powerful, and more and more people post their experiences online for future consumers, good and bad. However, it can be a huge red flag if you cannot find any information about a company online. This shows that they are not committed to growing with the times. Their installation may not be the most modern or use the most up-to-date processes. Asking your neighbors or friends that have a pool about the company they used. Or, ask them who they currently use for repairs can give you a good idea of who does a good job. Then, you can check out their work and make an informed decision when it's time to make a choice.
Check out previous work and references. Reviewing work done for previous clients is a great way to learn about the contractor's skills and the customer experience. Looking at photos can be good enough, but if it's feasible, visiting a couple of pools in person can really help you get a better idea of the kind of quality each company delivers. Some good questions you can ask the references or previous customers are:

Is your pool working properly?
Did the installation go as expected, and was it installed in a timely manner?
What kind of complications took place during installation?
Was it easy to work with the contractor during installation and when dealing with problems?
Did the installation company stay within your agreed budget?
How was the pool installation contractor with repairs or other maintenance?
Did you have an overall good experience with your pool installation, and would you use this company again?

Don't make a decision simply because of price. Even though there are many pool companies out there, there can still be a wide range of prices quoted to you. You can trust a company with a well-trained staff, insurance, an informative and nice-looking website along with a physical location for the public to visit, and materials and examples of products. These companies may not always give the cheapest quotes, but they will be around in the future when you need them for repairs.
Meet with your pool contractor in person. Talking with your contractor can help you get a sense of the kind of service as well as the experience they have. When you can ask questions and get immediate responses, you can really see the confidence or lack of confidence they have in their skills and knowledge.
Ask your potential contractor to show you their certifications and provide references for their previous work. If they act nervous or unsure about showing you any of this information, move on to another contractor.
Meeting with your pool installation company can also allow you to talk about design and give you the chance to talk about any ideas, questions, or concerns you may have about your project. Make sure they can deliver the vision you have for your pool and surrounding areas.
Meet with your contractor again in person before installation to discuss the final budget, design plan, installation timeline, and more. This can set you up for a positive experience where the company you are working with understands what you expect and vice versa.
Get Started Today!
Installing a new pool or repairing an already existing one is a big undertaking as well as a significant expense. You want to make sure you get it done right the first time.
By hiring the best pool installation company, you can save yourself time, money, and frustration now and down the road. Mid City Custom Pools brings you the experience, training, skills, and customer service you've been seeking. We are the whole package, and we look forward to working with you to show you why. For more information or to get started on an estimate for the pool of your dreams, contact Mid City Custom Pools today.