Winter Pool Maintenance: Is It Necessary?
Oct 14, 2021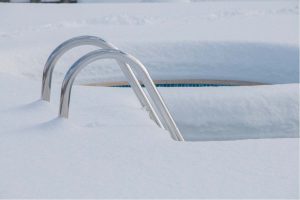 You probably aren't spending much time in the pool as the weather starts to cool down. But just because the summer season is over, doesn't mean that you don't need to worry about the pool. Good winter pool maintenance is essential to ensure your pool is ready for next year.
As you are using your pool less in the winter months, there's a higher risk of chemical imbalances in the water. Staying ahead of the maintenance helps to minimize potential issues in the future. Small pool care tasks right now are critical so you can avoid expensive and pricey pool repairs in the future.
Here are a few important tips to follow for winter pool maintenance. Stay consistent so that your pool is ready to open again next summer:
Protect the Cover




Just because the cover is in place, doesn't mean that your pool is free of unwanted debris. Keep an eye on the pool area to remove debris that might build up on the cover. Also, consider uncovering the pool occasionally to check on the water.

When the storms blow in, be careful to avoid unnecessary stress on the pool cover and surrounding objects. For example, make sure that the cover is secured to avoid wind damage. Also, anchor down patio furniture to prevent large items from falling onto the pool cover.

Keep an Eye on Water Levels




Keep the pool primed and protect your pump by ensuring that the water level is right. The specific water level depends on your location, type of pool, and the equipment you are using. A pool maintenance team can offer personalized advice for your unique pool structure.

Protect Against the Freeze




If the weather gets cold enough to freeze, then your pipes might burst due to water inside freezing and expanding. Frozen pipes can be an expensive and frustrating problem because it ruins your plumbing and equipment.

Watch the forecast and ensure that your freeze guard is in place to maintain circulation when the temperatures drop. This small step can save hundreds or even thousands of dollars in plumbing repairs.

Check the Filters and Equipment




Even though you aren't using the pool very much during the winter months, it's still possible for the filters to get clogged with contaminants and dirt. Check the filters and other pool equipment. Follow the manufacturer's recommendations for cleaning and backwashing as needed.

Empty the pump baskets, skimmer baskets, cleaner bags, and floor cleaner containers. In addition to the filters, also keep an eye on the plumbing pipes, heater, pool pump, and more.

Algae Prevention




Be proactive about cleaning the pool surfaces, floors, and walls to prevent algae from growing. One tip for winter pool maintenance is to brush, skim, and vacuum the pool weekly.

Not only do you need to clean the obvious surfaces. But also be proactive about getting to the areas that are harder to reach, such as the corners, steps, and ladders.

These small cleaning tasks are worth the time right now so you don't have dirty, green water when the weather warms up again in the spring.

Water Balances




Water chemistry might seem insignificant, but the pH levels of the water can damage the pool surfacing and equipment. Check various water chemistry readings, including pH, calcium hardness, and cyanuric acid. Keeping these measurements in range helps you protect the lifespan of your pool

Consider using an algaecide to prevent water blooms when the pool is not in use. During this time, you can reduce the use of water sanitizer, but continue to check the water chemistry balance.
Why Winter Pool Maintenance Matters
Why does it matter that you are staying consistent with winter pool maintenance? Not only do these steps help you avoid expensive repairs. But they are also helpful to keep your pool looking good. The appearance of your pool is affected by water chemical balance. All pool materials, including tile, rubber, plastic, and metal can experience damage from neglect.
The two most common aesthetic issues that can happen are:
Surface Stains: When the chlorine levels are too high, then it can cause staining on the interior surfaces of the pool. Look for signs of chlorine issues by watching for bleached areas on the pool walls. These damaged areas can be unsightly, and also indicate a problem with structural integrity issues. Eventually, the surfaces can become cracked and warped.
Scale Deposits: The most common place for scale deposits to happen is around the waterline of the pool. pH and calcium imbalances cause these deposits. As the deposits build up, they can damage the surface because calcium is pulled from the pool shell. Eventually, it cracks and causes visible eyesores.
Stains and structural integrity repairs are expensive. The good news is that they are easily avoidable by keeping up with winter pool maintenance and other tasks throughout the year.
Tips for Closing Your Pool
The simplest way to close your pool for the season is to call a pro team for assistance. If you want a DIY approach, then follow these tips:
Balance water pool chemistry for pH, alkalinity, calcium hardness, and cyanuric acid.
Clean and backwash the filter.
Brush and vacuum all pool surfaces.
Kill visible algae with a chlorine shock.
Check the water levels.
Secure the cover.
Store all equipment, including robotic cleaners, ladders, and toys.
Before you encounter freezing temperatures, make sure to:
Drain pool pipes and add antifreeze.
Blow out the filter and plumbing.
Remove hoses and unused equipment.
Cover the pool and equipment to protect from ice and snow.
Turn off unused equipment.
Turn off power breakers.
Pool Maintenance and More
At Mid City Custom Pools, we offer year-round pool maintenance support. Whether you need a routine checkup or have a bigger project in mind, we are just a phone call away. Our team can assist with repairs, winter pool maintenance, installation, and more. Contact us to learn about available services.