Do I Want a Pergola? 
Jul 28, 2017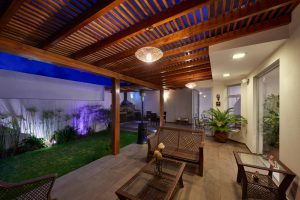 You may have decided that it's time to add something to your backyard, a bit of a remodel, or perhaps you just never felt like it was fully completed in the first place. If you have been going over your options for various structural additions, you may have found yourself asking the question, do I want a pergola? Well, we're going to go over the various characteristics of a pergola here and now, so you can finally make your decision about the addition. You need to ask yourself a few questions in order to figure out which backyard structural addition fits your needs. After answering these questions, compare your answers to the various characteristics of different architectural options, and from there, you'll hopefully be able to figure out what is best for you and your backyard. If you still have more questions, you may want to reach out to your pool builder in Southlake, or nearby city, to get some more answers. But for now, let's read on to evaluate whether or not a pergola suits you and your family's needs.
What are the reasons that you want to add a new architectural feature to your backyard?
How much time are you willing to put into this structure?
How much money are you willing to spend on this structure?
How much maintenance are you willing to put up with for a particular structure?
Do you want a structure solely for aesthetic purposes?
How much shade do you want to get out of your backyard structure?
Do you want a structure that will protect items underneath from various weather conditions such as harsh sun and rain?
So, what exactly is a pergola? Pergolas are large structures with beautiful and innovatively-designed architectural features. They stand on wood or stone-built columns, and are either freestanding or built onto the home. The 'roof' is open-faced, with wooden beams crossing overhead; this allows a bit of sunlight to still make its way into the region below. Pergolas do require a bit more maintenance than other structural additions, as they typically need to be stained and sealed every 2 to 3 years.
Pergolas provide about the same amount of shade as if you were sitting under a large tree, so if you are looking into getting one, you need to evaluate whether or not this is what you are looking for from a backyard structure. If your furniture and other various items can hold up to the Texas weather conditions, then you also will be fine with a pergola. But if you are searching for something with a bit more protection, then you may want to look into a different architectural addition, as a pergola will not provide much protection from things like rain and heavy sun rays.  Although, a possible addition to the pergola, is the option of a cover for the roof. Some people add a clear or tinted polycarbonate roof cover to their pergola for extra protection from the harsh Texas weather. When built onto a home, pergolas are great for extending the living space while also gaining an outdoor seating area, or depending on what you like, even an outdoor cooking area, or an outside bar.
If you are looking to add more to your backyard features in Southlake, or have more questions as to whether or not a pergola is right for you, you may be in search of a pool builder in Colleyville, or nearby cities. Look no further. Here at Mid City Custom Pools, we are a trusted pool company in Hurst that is eager to help you make your backyard dreams a reality. Call us today, and let's get started!