Water Feature Ideas to Add to Your Pool (Part 2)
May 11, 2017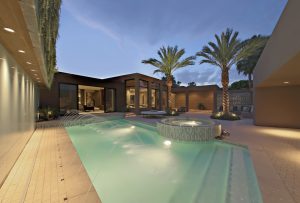 Summer is almost here, the weather is getting warmer, and it's almost time for backyard barbeques and pool parties. The first thing people probably notice when they walk into your backyard, is your pool or water feature. So why not make it even more beautiful to look at? We want to give you some great suggestions that we know you'll love, for some low-hassle/low maintenance pool upgrades so that you can spice up your summer fun this year.
What do we love? Deck Jet II. Deck Jet II Water Effects will enhance your pool in multiple ways; An inexpensive alternative to adding an expensive-looking water feature to your pool. Adding, peaceful sounds and mesmerizing sights, not only are they economically-friendly, but one of the best parts they are easy to operate and maintain. These magical little devices add so much to your backyard, to your eyes and to your ears.
Let's take a look at some of the product's features:
With an adjustable height of up to a maximum of 6 feet, you can be in charge of sound and visual outcomes.
You're the designer, with an adjustable water direction, up to 360º. The nozzles are easy to adjust, and you get to choose the water patterns; From overlapping the streams with multiple height adjustments, to creating archways, to keeping it simple and symmetrical… but don't be afraid to put on a water show.
The high-quality design incorporates low-water-flow requirements, and keeps you from having to worry about any standing water, etc.
The final installment will keep you happy, with no unwanted or hazardous edges and screws.
Moving on, what else do we absolutely love? Magicstream Laminars. What do they do? With the creation of synced-arcs of streaming water that solidly flow crystal-clear at day, and sparkle luminously with vibrant color at night, Magicstream Laminars add beautiful sights and sounds to your pool. These amazing devices even sync with your IntelliBrite 5G pool/spa light, and (or) the GoBrite Light. With these incredible water-feature accessories, you might even mistake your backyard pool for the fountain at the Bellagio hotel.
Let's take a look at some of this product's features:
The streams flow seamlessly into your pool, spa, or other water feature while reaching a height of up to 7ft., and projecting outward at up to 8 ft.
With the energy-efficient LED lights, you'll have almost too-many color options to choose from.
For the night-time lighting effects, you have a choice of one steady color stream, or an array of colors with the color scrolling option.
The final installment will be secured so that the device is concealed into your deck or other surface with no unwanted or hazardous edges.
Get creative! With the ability to adjust the water streams vertically from 62º to 75º to create various heights and arc shapes, and the ability to adjust the water streams in left and right directions up to 60º in total, you get to be the designer.
For even sleeker concealment, match your pool deck or other installation surface with laminar deck lids that are available in tan, black, and gray.
With the LED laminars, you'll receive 100 ft. of electrical cable that will enable you to easily connect a 120/120VAC-100W pool-lighting transformer for power.
With aesthetics in mind, the MagicStream Laminars are designed to keep a smooth and steady stream by removing any turbulence or air bubbles from the water before it is projected through the deftly-assembled nozzle.
You will receive your MagicStream Laminars fully-assembled and ready to install.
We know these amazing water features will bring, beauty, fun, elegance, and ambience to your pool or water display. If you love these ideas as much as we do, here at Mid City Custom Pools we are here to help. So, if you're ready for summer and looking for some new backyard water features in Colleyville, innovative pool features in Southlake, or the surrounding areas,  contact us today.