Geometric or Freeform Swimming Pools: Which is Right for Me?
Jul 20, 2017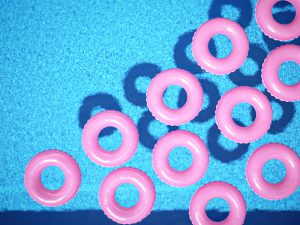 So, you're looking to build a pool, but you just aren't sure which shape is right for you? Well, you've come to the right place. Let's start by looking at our two options, geometric and freeform. You may be wondering, what exactly is the difference between these two pool designs? Put simply, geometric swimming pools are generally referred to as rectangular or square swimming pools, whereas freeform swimming pools are generally known as more natural-looking designed swimming pools, and typically exhibit more circular lines. So, what characteristics encompassed by these two different designs will best fit in with your backyard? Read on to learn a little bit more, and make your decision based on what's best for you and your yard.
Geometric swimming pools have been a popular design choice for custom pools, especially as in the beginning of custom in-ground pool building, they were pretty much the only option. A large reason they are popular is simply because some people prefer the look of the classic, sleek lines and general symmetrical view. Typically referred to as square or rectangular pool design [but also customizable to other shapes], the geometric swimming pool never goes out of style. The layouts for the geometric swimming pool can range from simple to intricate and detailed. This design is typically very multi-functional and great for various different lifestyles and activities.
Freeform swimming pools are a bit newer in implementation, but have become increasingly popular in recent years. Freeform swimming pools first gained notoriety in California, but soon made their way across the country to states such as Florida and Texas, and have now become a popular choice amongst homeowners all over. Most people who choose this design are going for a more relaxed, natural, or unique look. What's neat about freeform pools is that they can be dreamed to be made into any shape or size. Many people looking to build a swimming pool in Southlake and surrounding areas are able to enjoy freeform swimming pools to the max because of the commonly largely-sized backyards. The freeform pool design, being extremely customizable, will complement any house structure or landscape design.
So, what are some of the main things to consider when picking a design?
Yard size
Geometric pools go great in either small, medium, or big yards. But if you do happen to have a smaller yard, geometric pools usually will help you best utilize the space you have. To maximize your swimming area as well as your backyard land, geometric swimming pools best compliment small backyards. If you have a larger backyard, either a geometric or freeform swimming pool is perfect, depending on your preference.
Usage
What will you be using your pool for? Which type of pool will best fit your lifestyle? Will you want to play games in your pool? Will you be attaching volleyball nets? Will you be swimming laps? Will you want to add a diving board or other various pool additions? These are the questions you need to ask yourself when deciding on a swimming pool design.
Style
This one is a little bit more simple… Which design is more your style? Which one do you see in your head when you're dreaming of your perfect backyard? Both are customizable and can be formed to fit your taste, but there are also very different characteristics that each elude and one is more likely to be in your dreams as well as your future dream backyard.
If you are looking for a swimming pool builder in Hurst, or an inground pool builder in Colleyville or Southlake, here at Mid City Custom Pools, we are excited to help you dream your backyard dreams into reality! To learn more about these different designs and ask questions to help you make your final decisions, please, don't hesitate to contact us today.