The Impact of Weather During Construction of Your Backyard Project
Jul 13, 2017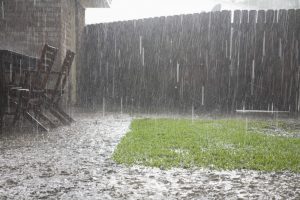 Let's face it – the weather is often unpredictable and can cause us to have to change plans at a moment's notice. When undertaking a big backyard renovation project, it is important you keep this in mind. One of the best pieces of advice we can give homeowners embarking on an outdoor project is to postpone until after the rainy season. This can be difficult for homeowners, but it will save you a great deal of time and money in the long run.
During Texas' rainy season, it can be difficult – if not impossible – to get equipment into the backyard, leading to frustration on both the part of the homeowner and renovation team. It is no secret that rain can affect our day-to-day lives, putting a wrench in our plans and mood. Whether you are having a new freeform swimming pool installed, an outdoor kitchen, or a pergola, it is important you hold off until the weather clears. The last thing we want is to give a project the go-ahead, only to have to pump the brakes because of rainy weather. Any level of wet climate can affect pool construction, delaying all phases, especially excavation.
Don't Let the Weather Dampen Your Pool Project
When it rains a substantial amount, it isn't just that day that is impacted. In fact, it may take anywhere from 24 hours to 48 hours for conditions at the construction site to be dry enough for our team to get back to work. In the event of deluge rain, additional precautions may be necessary in order to keep the working site safe and free of any damage. We understand how frustrating this can be, especially if the weather seemed to be clear for the project. No matter what the Weather Guy on your evening news says, if you are considering starting a pool construction project during the rainy season, think again.
It is imperative that homeowners understand that inclement weather can slow down outdoor construction. This is undoubtedly an unpopular topic for pool builders, but it is important to address nonetheless. Mother Nature truly has a mind of her own and can wreak havoc on a person's outdoor ambitions. If it has been raining a lot and the weather just doesn't seem to be letting up, it can make it impossible for our team to dig up the dirt needed to create a space for your pool. In some instances the dumpsites will close, causing us to have to start all over. For this reason, Mid City Custom Pools will not dig the swimming pool hole until weather permits.
Not being able to start on a pool renovation project because of weather can have a domino effect. If we can't start on your pool, the timeline will be delayed, and then other deadlines will get pushed back. It is also important to keep in mind that rainy weather isn't the only obstacle pool construction teams must work around. Extreme heat can also slow down a build because of worker exhaustion, which is something to be aware of.
The bottom line? Rainfall can damage an excavated pool hole, causing the walls to collapse and delaying the project indefinitely. Bad weather can lead to a myriad of delays, some of which are entirely unexpected. This is why we encourage you to be patient and wait to start your Texas home pool construction project until the weather is clear. Being patient and waiting until the weather calms down will be worth it in the long run, as you won't have to deal with unexpected delays that will leave you frustrated and with a huge mess in your backyard. For more information on our Hurst custom swimming pool and outdoor design services, please contact Mid City Custom Pools today.