Get your backyard ready for fall with a complete backyard transformation!
Aug 16, 2017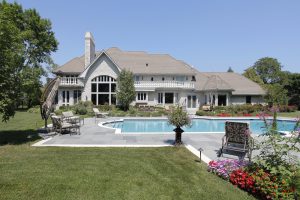 Many people begin the construction of their pool based on several factors, but one of the big ones, is the realization that they can no longer go another summer in this Texas heat without having a nice swimming pool to cool off in. Most of the time, the realization occurs in the most intense heat of the summer, but the problem is, if you begin construction on your pool during the summer, then it will only be ready and completed during the winter months, and unfortunately, then, you won't be as eager to jump in. So, we suggest that towards the end of summer be when you execute the decision to look for a swimming pool builder in Southlake, when autumn is just around the corner. Based on several factors, Autumn is actually one of the best times for a backyard transformation. Let's talk about the reasons why…
Perfect timing
If you begin building your pool during the fall, it will be done just in time for the warm weather to start creeping its way back in. But this time, you'll be prepared. You'll have about 6 months to design, build, and perfect your dream pool before the weather starts heating up again.
Less delays
Autumn weather tends to be the most predictable of the seasons. Unexpected weather disruptions can cause delays during summer, winter, and spring, but during the fall, usually nothing too crazy comes along oh-so-suddenly. Spring can bring sudden showers, winter can bring sudden ice, but with autumn you can rely on a lot smoother transitions from day to day.
Low season
Summer is high time for building a pool, many people become immersed in the heat and decide they need a pool now. The problem is, building a pool isn't a "right now," sort of project. Because many people make and execute this decision during the beginning months of summer time, it typically is when pricing runs the highest. Choosing to build your pool during the fall, may actually end up saving you a few bucks. Not only is money a factor, but a swimming pool builder in Colleyville, or a surrounding city, will have a lot more time to focus on you and your project if they don't have so much on their plate.
Beat the heat
This one is sort of a given, but workers are going to be much happier working in the cooler weather than in the beating-down heat of the sun in a Texas summer. And happier workers mean happier building, happier building means a quicker, better, and easier building process for you and your pool.
Did somebody say hot tub?
If you plan to build a spa or hot tub as an addition to your pool, if you begin your construction in the early fall, it is likely that your hot tub will be completed just in time to still enjoy it during the last bit of cold. This way you're truly getting to enjoy your pool and spa or hot tub right on time for the appropriate weather patterns.
If you're one of the lucky ones that has realized that now is the time to start searching for a pool builder in Irving, Southlake, Colleyville, or one of the surrounding cities, you're in luck. Here at Mid City Custom Pools, our team of pool building experts is passionate about helping you design and build the perfect pool for you. Contact us today, and let us help you make your swimming pool dreams a reality.