Pool Safety 101
Aug 24, 2017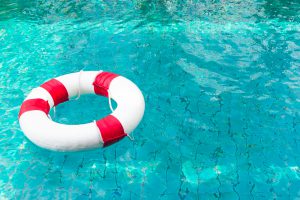 Pools are great for a lot of things, having a great time, exercising, get togethers, relaxing, but they also can be dangerous if the proper safety guidelines aren't implemented and followed. We love chatting about all the fun things we use our pools for, but an experienced pool builder in Colleyville, where so many families enjoy pools in the Texas heat, will also want you to know various guidelines in order to keep it safe. So, keep on reading to check out some of the most important safety guidelines that we want you to keep in mind when enjoying your pool.
Don't let children swim unsupervised
Many times, people have made the mistake of walking inside or turning away from the children while they are swimming; they think they will just take a minute and return their attention, but a minute is all it takes for a child to be seriously injured in a pool. Even if your children know how to swim or seem to be fine on their own, there are too many horror stories and statistics saying that things can go wrong. The bottom line is that children do not have the proper instincts to address dangerous situations and need adult supervision while in or around the swimming pool.
Keep it clean and chemically balanced
It's important to make sure your pool has the proper chlorine and other chemical balances before swimming. Not only can your pool be damaged if the levels are too low, but swimming with levels that are too high can be damaging to you.
Have proper steps and railing
Make sure, especially if you have elderly swimmers or young swimmers, that you have proper and safe railing and steps for entering and exiting the pool.
Don't run alongside the pool
We know this rule is quite cliché, but it's always emphasized for a reason. Even if the surface of your outdoor deck doesn't seem to be slippery, running around a wet pool area can result in bad falls, broken bones, concussions, or falling into the pool injured and not being able to swim or climb out.
Have emergency tools available
Unfortunately, accidents can happen, make sure you have a working cell phone nearby [outside] to call emergency services if necessary.
Be careful with various large floating toys
Large floating toys are a blast for the kids, and really nice for adults to lounge on as well, but be careful when you have a lot of children swimming around one because it does happen that a child can get caught underneath, panic, and not be able to swim out to safety.
Be careful jumping in
It's never a good idea to jump into a shallow body of water. It truly is advised against to jump into the pool from the ledge in any case, because you can slip or injure yourself jumping in. If you do jump into your pool, make sure it's in an area that is deep enough and that you won't hit the bottom. And most importantly, never dive in head first.
Have safety regimens in place for when the pool is not being used
If you have children or elderly people living at home, it is a really good idea to have a fence around your pool, or a safety net covering it while it is not in use. It does happen that children wonder outside, even in just a minute that they aren't supervised, they can fall into the water. Even if a child normally can swim seemingly fine, they may panic or become injured when falling in, and so it is always important to have all the necessary preventatives in such a situation.
Pools are great for fun, great for family, great for friends, great for exercising, and great for relaxing, but it is so important to practice safety when you and your loved ones are in and around the pool. If you would like to learn more about pool safety or are interested in building a pool of your own, you may be searching for a pool builder in Southlake. Here at Mid City Custom Pools, we are confident in our abilities to build you the pool of your dreams. Contact us today, and let's get started!