Guide to a Fun, Poolside Halloween Costume Party
Oct 17, 2022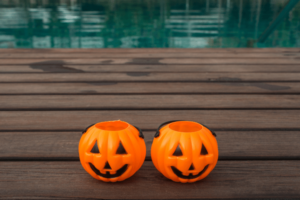 Even though pool parties are most common during the summer months, there are plenty of other opportunities to enjoy the space all year long. One option you might be planning is to host a poolside Halloween costume party this year.
There is still time for another outdoor event with friends and family this year! Make it extra fun by setting up Halloween-themed décor and inviting everyone to wear a costume.
If you are wanting to throw the best poolside Halloween costume party, then consider these tips to make sure everyone has a good time:
Keeping Everyone Warm
The weather is cooler during this time of year, which means people might be chilled after the sun goes down. Make it more comfortable for your guests by purchasing or renting outdoor heat lamps. These portable heat sources are great for pool parties so people are comfortable when they are getting out of the pool.
Some of your guests might not swim, but they will still enjoy the heat lamps. Another nice feature is a towel warmer so everyone has a cozy way to wrap up, especially when there is a chilly wind in the air.
Halloween Swimming Pool Games
For the kids and adults who choose to swim, keep them entertained with Halloween-themed pool games. If the party is in the evening or nighttime hours, then use glow sticks around the pool. Or, switch out the underwater lights with colored bulbs in Halloween colors: black and orange.
A pool race can bring out the competitive side and keep people laughing. One idea is to have teams push mini pumpkins across the swimming pool to see who can get to the end first to win the prize.
Utilize the Whole Yard
While it's nice to have a swimming pool, some people will want to stay on dry land when they attend your Halloween costume party. Make sure to plan activities that will engage people both inside and outside of the swimming pool.
One option is to have a scavenger hunt around the property. People can find clues and search for objects sunken in the swimming pool water or hidden around the backyard.
Also, consider other options for people who don't want to swim. Yard games can be a great way to keep your guests entertained.
Minute to Win it
Small "minute to win it" games can be entertaining and keep people laughing. These games are even funnier when your guests are dressed up for a poolside Halloween costume party.
Some of these games can be played by people in the swimming pool. Other games will be better for people who are on the pool deck. Plan a variety of options and look for solutions that can keep everyone engaged. If you need more ideas for the games, then check out this list of 200 minute-to-win-it games.
Scary Foods
One of the highlights of every party is the food table. You can go with a traditional poolside BBQ and serve hamburgers and hot dogs. Or, make it a little more creative with themed "scary" foods.
There are lots of holiday-themed appetizer ideas online, including mummy hot dogs, pumpkin truffles, spider cookies, and more. A quick search is a fast and easy way to find recipes and get ideas for decorating those spooky cookies.
Halloween Costume Party Contest
It's not a Halloween costume party without having a contest for everyone who shows up in a costume. Make it a big deal by rolling out a red carpet next to the swimming pool, turning on some fun music, and inviting the contestants to "strut their stuff" and show off their costumes.
Plan fun prizes for the costume contest, and build up the excitement with a megaphone and interactive games.
Outdoor Horror Movie
As the night is winding down, consider setting up an outdoor screen so you can project a horror movie and watch it under the stars. There's an extra level of suspense when watching a scary movie outside!
If it's a family-friendly event and you don't want to scare the kids with a horror movie, then consider a fun cartoon or family-friendly movie as an alternative.
Spooky Décor Ideas
Setting up for the Halloween costume party can be so much fun! How are you going to transform your yard and swimming pool into a spooky party? Here are a few ideas to help:
Creepy candles and antique-style candle holders
Party favors with little treat bags holding candy and goodies
Orange and black plates, napkins, and cups
String lights with Halloween-colored pom-poms
Candy bowls set out so everyone can snack throughout the night
Jack-O-Lanterns made out of paper bags
Placement of spider webs around the yard
One idea to decorate and plan a fun activity at the same time is to set up a pinata. Fill it with Halloween candy and plan a specific time during the evening when you pull out the baseball bat and invite everyone to participate. Adults and children will love this fun activity!
Murder Mystery Evening
If it is an adults-only party, then consider hosting a murder mystery dinner around the swimming pool. Encourage everyone to dress up based on the theme for the night, with outfits matching their assigned characters.
A murder mystery dinner is easier than you might think. There are many pre-designed packages that come with everything that you need. All it takes is opening the box and passing out the character assignments, then everyone participates to explore clues and find out whodunnit.
Halloween Themed Music
Don't forget to pull out the speakers and play fun music in the background. Find seasonal playlists on all major streaming platforms, or create a playlist of your own.
The Local Swimming Pool Experts
At Mid City Custom Pools, we love seeing families who can enjoy their swimming pools throughout the year. If you are considering an investment in a backyard swimming pool, then we invite you to reach out to our team for a complimentary consultation. We are always here to help!