Homeowner Guide to Inground Pool Sizes
Sep 14, 2022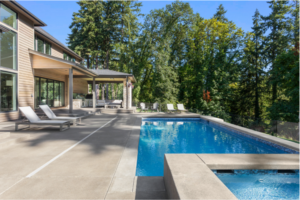 How much space do you have in the backyard for your new private swimming pool? It's exciting to invest in these backyard upgrades! Make sure you take plenty of time to learn about the industry and explore your options for swimming pool designs and inground pool sizes.
Above-Ground vs. Inground Pool Designs
If you want the best results for your backyard makeover, then consider the differences between an above-ground pool vs. an inground swimming pool.
While an above-ground pool is fast and affordable, this cheaper solution comes with a few drawbacks. These types of swimming pools can be installed in just a few days, and often include decking and other features to make it a beautiful space.
The problem with above-ground pools is that they don't add to the value of your home. Additionally, there are potential maintenance issues that you might encounter because the structure isn't built into the ground. Plus, there are depth limitations with above-ground pools, which means you won't be able to dive into the pool.
On the other hand, there are many more customizations available with inground pools. Not only can you choose from different inground pool sizes, but you also have the freedom to select the depth, features, and other elements that will make your pool unique.
Inground pools are permanent fixtures, which means they can have an impact on the value of your home. Also, most pool experts will agree that inground pools are better because they offer more security and privacy for your family.
Inground Pool Sizes: What You Need to Know
The most obvious thing to consider when designing your swimming pool is how the pool will fit in your yard. Inground pool sizes need to coordinate with the dimensions of the yard, leaving room around the sides of the pool where you can lounge and play.
Here are a few considerations that will help you make your decision when comparing inground pool sizes:
How will the pool be used? Think about the most common activities you want to enjoy while using the pool. For example, if you are planning to swim laps, then a long and narrow pool design is the perfect fit. On the other hand, a pool for relaxing and family games should be a little wider with a rectangular or square shape to provide room for people to move around.
How much do you want to spend? Next, consider your budget for the pool installation. The bigger the pool, the more money you will spend on the installation. If you have a tighter budget, then smaller inground pool sizes are probably a better fit for your family.
What is your yard size? Make sure there is plenty of space in the yard to install a pool without detracting from other landscaping features. The size of the yard is a major factor that determines how big of a pool you will be able to install.
How many people will you be hosting? For intimate, small gatherings with immediate family members, smaller inground pool sizes might be sufficient. But if you like to invite the neighborhood and host friends in your yard, then you'll want to make sure the pool size is big enough to accommodate a larger crowd. A backyard swimming pool is the perfect location for summer entertaining.
What special features do you want? Certain features require that you have a larger swimming pool. For example, if you want to install a waterslide or diving board, then you need to make sure there is enough space and depth for these features. Also, consider whether you want to have a hot tub with the swimming pool, because you'll need to keep enough space to the side of the pool where the hot tub can be placed.
Common Design Features for Inground Pool Sizes and Shapes
Talk to our experienced pool installation team and you will find that there are many different shapes and inground pool sizes to choose. We offer personalized support for every homeowner, giving you the freedom and flexibility to design the ideal swimming pool for your family.
Rectangle: This is the most common pool shape. It is a great design in most yards, and fits efficiently in many different spaces. Plus, a rectangular pool can allow different water depths for features such as a diving board.
L-Shaped: Another option to consider is a rectangular pool with an additional shorter length at one end of the pool. For example, this part of the pool might be the shallow area where the kids can play.
Kidney: The name of this inground pool shape comes from the shape of a kidney bean, with a rounded shape. Usually, these pools have a shallow area on one side and a deeper area on the other side.
Geometric: Any types of geometric lines and shapes can be designed into your swimming pool, using curves, angles, and shapes to customize the overall appearance. Geometric design is a great solution if you have a uniquely shaped area for the pool installation.
Oval or Circle: All edges of the pool are rounded, making it both functional and aesthetically pleasing.
Most Popular Dimensions for Inground Pool Sizes
Swimming pool sizes are measured by both the length and the width of the swimming pool. Rectangular pools are most common, and these inground pool sizes are usually determined by a 2:1 ratio. The main measurements are typically:
20 feet by 40 feet
18 feet by 36 feet
16 feet by 32 feet
On the other hand, if you are designing a lap pool, then it usually has a length of about 82 feet – but can be as small as 40 feet.
Customized Swimming Pool Installation
The good news is that backyard swimming pools can be custom-designed in any way that you imagine. If you would like more information about designing the ideal backyard swimming pool, then reach out to our expert team for assistance. We will answer your questions about inground pool sizes, features, design styles, and more.
Contact Mid City Custom Pools when you are ready to schedule a no-obligation consultation.