How to Heat Your Pool This Winter
Dec 19, 2017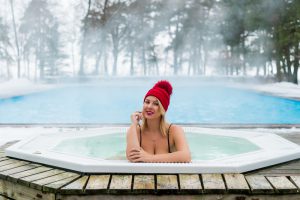 One of the best parts about living in Texas is how great the weather is year-round. Unlike many other parts of the country, here in Texas we are able to enjoy our backyards throughout every season. If you have a swimming pool in your backyard or are thinking about having one installed this winter, you may want to think about whether or not you want to be able to use your pool year-round. While most people in other parts of the country have to shut down their pool and 'winterize' it for the season, Texas residents have other options. Heating your swimming pool is one of the best ways to ensure year-round enjoyment, regardless of what the weather is doing outside.
We often field questions about heating outdoor pools and whether or not it's a good idea. Many people are concerned about the cost and whether it really makes sense to heat their pool all winter long. The answer is yes. If you are interested in enjoying the comforts of your home swimming pool whenever your heart desires, heating your pool is the way to go. One of the top reasons for owning a pool is being able to swim in it whenever you want, right?! There are various ways to heat your pool, allowing you to decide how much you want to spend on it. Being conscious of the environment and fuel costs, any unnecessary pool heating should be avoided, if possible. While it is certainly up to you, your pool water doesn't need to be that hot. Taking a conservative approach will not only benefit you, but will ensure you save energy and keep your bills at the low end.
Top Considerations for Heating Your Pool This Winter
If you're building a new construction pool, the best way to heat it during the cooler months is with a natural gas heater. If you have a spa, you will most likely already have a natural gas heater. Natural gas heaters are great because you can essentially tell them what to do. They give you a lot of control, allowing you to make adjustments based on your preferences and the weather.
Another option to increase the efficiency of the heater and decrease the cost of heating the swimming pool is an in-floor heating system. An in-floor heating system will not only decrease the cost, but heat the pool quite well. Think of it like heating a pot of water – the controls for the heat are in the swimming pool, meaning the whole system is connected and works together. This is hands down the best way to heat a swimming pool as long as it is used in conjunction with a natural gas heater. Mid City Custom Pools is a registered installer and supplier of Paramount PV3 in-floor cleaning and circulation systems, an important aspect of any home pool heating system.
In addition to being a great luxury, a pool that is heated properly comes with numerous wonderful health benefits. Healthcare professionals agree that swimming is one of the most beneficial cardiovascular exercises, and what better way to partake than in the comfort of your own backyard? To learn more about heating your pool or if you have questions about our pool installation services, please contact Mid City Custom Pools today.