How to Make the Most of Your Small Backyard
Dec 14, 2017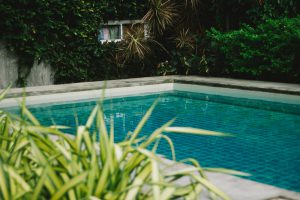 Not everyone has a huge, expansive backyard to transform into an outdoor oasis, and that's just fine. There is something charming about a small backyard space, and plenty of ways to make the most out of it. A little goes a long way when it comes to turning an outdoor space into an enchanting sanctuary, allowing you to pick and choose the various features you want most. One of our favorite aspects of designing a small backyard is the addition of a geometric pool design. Tinier spaces lend themselves to geometric pools, which is a win-win for everyone. Not only are these fun pool designs a great way to add a bit of style to your yard, but they won't break the bank. With a small geometric swimming pool, you will be able to maximize your space and increase your enjoyment of the space at the same time!
Beyond a small swimming pool, how else can you make the most out of your small backyard? With a small backyard it is hard to put a round peg in a rectangle hole. We need to follow the shape of the backyard to maximize the efficiency of that space. This is just one reason why it is important to work with a design team who understands what works well with different shapes of yards. Not all yards are created equal, and we are here to help you find what will work best for your given space. With that in mind, here are a few additional ideas for transforming a small backyard:
Break things up – One secret to making the most out of a small outdoor space is to create multiple zones or areas. You can do this by strategically arranging furniture to create different spaces for lounging, eating, cooking, and entertaining. Pergolas and arbors are a great way to break up these different areas, without taking up too much space.
Consider your lighting – Smart lighting design is another great way to make a small outdoor space pop. Use landscape lighting by planters, LED lights around the pool, sconces in the cooking area, and overall ambient lighting to get the job done.
Simply extend your indoor space – When working with a tight space, a good way to make it feel bigger is to extend your indoor living space to the backyard. If you have french or sliding doors, this is even easier. Outdoor rugs are a great way to tie the two spaces together and create a sense of cohesion.
Don't overdo it – This is a tough one for many, but it is important to not let your space get too cluttered by your ideas. The more your yard has going on, the smaller it will feel. Instead, settle on a few key elements and really make them pop. From built-in seating to an outdoor kitchen or geometric pool, take some time to decide what matters most to you.
The bottom line? Just because you have a small backyard doesn't mean Mid City Custom Pools can't create a backyard oasis for you. To learn more about our ideas and options for tighter outdoor spaces, give us a call today. We are happy to meet with you and go over some of your options, working together to find a design plan that is in line with your needs and budget.