What You Need to Know About Concrete Pavers
Dec 21, 2017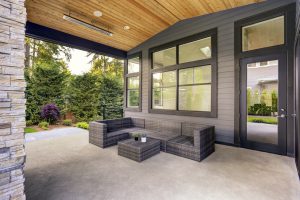 Concrete pavers are an easy-to-install option for homeowners looking to have a poolside patio installed. Not only do they look good, but they are tough, weather-resistant, and cost-effective. More and more homeowners are turning to concrete pavers as a means to transform their yard into a defined space of hardscaping, equipped with patios and paths that make outside life that much better. There are two different kinds of concrete pavers on the market today:
Interlocking
Architectural
For those interested in a more natural look, interlocking pavers may not be the way to go, as their shape and texture may come across as unrefined to some. Architectural pavers offer a more aesthetic alternative, although they may not stand-up to as much wear and tear as interlocking pavers. They are more sensitive to cold weather, which shouldn't matter much here in Texas. If you are trying to decide whether you should go with interlocking or architectural pavers, we encourage you to contact Mid City Custom Pools today. We are happy to answer any questions you may have and provide guidance as to which will be best for your home.
Why Concrete Pavers?
Mid City Custom Pools offers a lifetime warranty with any concrete pavers you have installed. This lifetime warranty protects you against cracking and any other issues that may come up with your pavers. While concrete pavers are typically on the higher end of the cost spectrum, Mid City Custom Pools proudly offers a discounted price now through January 31st, 2018. This is a great time to take the plunge and move ahead with your poolside patio!
Concrete pavers are versatile, tough, and designed to last a lifetime, making them a fantastic option for any backyard overhaul. When coupled with soil treatment and other landscaping, pavers will turn your backyard into an oasis.
When it comes to having concrete pavers installed, there are a few things to keep in mind. While many companies recommend doing 4 inches of sub base underneath the paver, Mid City does 8-10 inches of sub base, exceeding standards set in place by the Interlocking Concrete Pavement Institute. This is because of the soil composition in Texas and the fact that we need to create a stronger surface to install the pavers.  When this method is combined with a focused soil treatment, you will not have issues with your pool.
With the Mid City Custom Pools promotion, pavers will increase the aesthetic value of the property and decrease unsightly cracking patch repair work. If you are trying to decide between having concrete or pavers installed, we guarantee pavers will give you the WOW factor, and last much, much longer. The promotion we have going on our pavers brings the cost close to what it would be of no sealer concrete decking. There should be no reason why Mid City Custom Pools cannot install concrete pavers around your pool today, come see us!