A Holiday Gift Guide for Pool Owners
Dec 11, 2017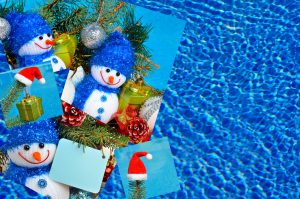 The holidays are upon us, which means it's time to hit the pavement – or your keypad – and find the perfect gift for everyone on your list. If you happen to be shopping for a pool owner, there are tons of wonderful options that will make their Christmas that much cheerier. Not many people think about giving gifts associated with the pool for the holidays, but maybe it's time we start. Pool gifts are not only fun, but they are unique, practical, and something your loved one will be able to enjoy throughout the year. If you have a hard-to-buy-for friend or family member on your list that has a pool, you may want to consider our holiday gift guide.
We have something for every budget on this list, allowing you to choose the perfect thing for that special someone. Even though the temperatures may be cooler right now and we are even seeing snow in some parts of the state, it doesn't mean you can't give the gift of swimming and summer fun right now! From useful pool accessories to fun gifts that will liven things up, here is a look at some of our favorite holiday gifts for pool owners:
Pool toys and floats – From the quirky pizza shaped raft to pool noodles, there are many different options out there that will liven up any pool. There are pools toys for every budget, allowing you to choose the option you think will best fit with your loved one's personality and needs. Give them a couple colorful pool noodles for exercising and relaxing, or a more luxurious float with a cup holder for that yummy daiquiri come summertime!
Pool cleaners – This will go in the category of 'give them something they need', but sometimes these are the most thoughtful gifts. If you happen to have someone on your list who would appreciate a gift they need, consider an automatic pool cleaner. Automatic pool cleaners make cleaning the pool a lot faster and easier, which is something they will surely thank you for come the middle of summer.
Pool fountains – Fountains and other water features are an excellent gift for anyone who loves spending time in their backyard and is looking for a bit of tranquility. Pool fountains can easily be attached to the pool's return line, making this a thoughtful and simple gift. Mid City Custom Pools offers a wide range of fountains and water features for every budget.
Pool games – If you are shopping for a pool owner with kids or a love of sports, consider a basketball and volleyball kit. This is a great gift for the whole family, especially for those who have an active pool lifestyle.
LED lights – There are tons of different, stylish LED lights and lamps designed for the pool out there today. Lights add ambiance and create a beautiful setting for night swimming and simply enjoying any given backyard space once the sun goes down. Your loved one will surely appreciate such a thoughtful gift and think of you every time their backyard illuminates!
If you have any questions about our holiday gift guide or would like to see how Mid City Custom Pools can help you shop for the pool owner in your family, please don't hesitate to give us a call. Happy Holidays!