What to Look for in a Quality Pool Installation Team
Aug 16, 2022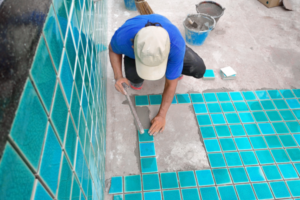 Do you love the idea of sharing a private backyard swimming pool with your family? Then it might be time to hire a pool installation team to upgrade your yard. Picking an experienced contractor is the best decision you can make to ensure a quality outcome for the project. So, it's smart to do a little research before deciding on a pool contactor to hire.
Why It Matters: Hiring a Reputable Contractor
Not only will a reputable pool contractor deliver results you will love. But you can also have the peace of mind in knowing that your installation team is maintaining the highest levels of safety every step of the way. A good builder implements necessary steps to ensure proper construction that meets all safety codes.
When safety is priority, it reduces the risk of problems and accidents in the future. You will be spending a lot of time in the water and want to make sure your family and friends are safe while enjoying the backyard swimming pool. For example, safety measures ensure that your pool is built in a way that withstands the weight of the water.
Plus, an experienced installer will have the expertise and skills to help you create a custom swimming pool. You can spend time together working on the specific features and details you would like to include in the design. Then, the installation will be built to your satisfaction, giving you the perfect outdoor space to enjoy for many years.
Characteristics for Your Pool Installation Team
What are the ideal characteristics you should be looking for when hiring a pool installation team? Here are a few proven recommendations to ensure you are working with a contractor you can trust.
Location: Find a pool installation team that is close to home. Hiring a local contractor means that you can likely get a cheaper price because you don't need to pay for travel expenses. Plus, local providers understand the soil conditions, climate considerations, and other details that will impact the outcome of your installation. Additionally, a local provider knows the best way to access all necessary permits and approvals for the construction process.
Reviews: Look at customer reviews online to find more information about the contractor you are planning to hire. These online reviews can show both the positive and negative experiences people had with the contractor. Look for a company with many positive reviews and watch out for red flags in the negative reviews.
Communication: There is a lot of work that goes into pool installation, which is why you need a contractor who keeps you updated through all stages of the project. You need to feel comfortable to reach out whenever questions arise. At the same time, they should be proactive about maintaining communication with you as the installation progresses.
Quality: The quality of your swimming pool will depend on the experience and skill level of the installation team that you hire. Ask to see before and after photos of other pool installations they've completed. Also, you might find out about the contractor's certifications, licensing, and more.
Insurance: Only work with contractors who have insurance coverage. This insurance should be available for any accidents or injuries that happen on the job, helping to eliminate your liability if something goes wrong.
Each of these characteristics are important on their own. Combine everything together, and you can have confidence in the quality of services that you will receive.
Checklist for Hiring a Pool Installation Team
Now that you know the characteristics you are looking for when hiring a pool installation contractor, how do you pick a local company to hire? Here is a quick checklist you can follow to streamline the process of choosing a contractor that will deliver the quality results you deserve:
Research Online: Start looking online for pool installation companies in your local area. You'll find local businesses that show up in the search results. Visit their websites to learn more about the services that are available. A good online presence speaks to the professionalism of the team you are hiring.
Read Reviews: Never skip the step of reading reviews about the contractor you are wanting to hire. Always take time to read through customer reviews. If you can't find this information online, then ask the contractor for testimonials or feedback from previous customers.
Schedule Multiple Estimates: Don't assume that you need to move forward with the first pool installation team you find. Instead, be open to talking to several contractors to compare your options. For example, many homeowners request multiple estimates so they can meet different contractors and look at pricing options.
Prioritize Value Over Cost: While it's important to maintain a budget for your pool installation, don't make the mistake of cutting corners to the point where you are sacrificing quality. "You get what you pay for" is a saying that holds true when it comes to home renovations. So, instead of choosing the cheapest contractor you can find, it's better to look at the value they are delivering for the installation.
Hire Licensed Contractors: When a pool installation team is licensed, it increases the likelihood that they are professional. Pool installation is a big project, which means that you will likely run into problems if you hire a small handyman or a contractor who is just getting started in the industry. You deserve quality results, which is why it makes sense to hire a team that you can trust.
Take Your Time Before Deciding: There is no reason to rush into this decision! If you need time to consider your options, then don't let the contractors make you feel pressured to move forward right away. Most of the time, your estimates will have a specific timeline because of the changing costs of materials. But you can always request new proposals in the future if necessary.
Call Our Pro Pool Installation Team
At Mid City Custom Pools, we offer quality installation services and a personalized experience for every homeowner. We invite you to call us today to schedule your free, no-obligation consultation. We are here to help!