How to Utilize Your Outdoor Space Over 4th of July Weekend
Jun 24, 2020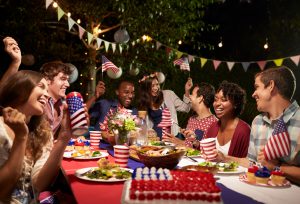 The 4th of July is the Perfect Time for an Outdoor Party
As we continue through 2020 and into the summer months, we inch closer and closer to the 4th of July. Independence Day is the day Americans all across the country celebrate our nation declaring independence from Great Britain. It's the day we celebrate the birth of our nation. 4th of July weekend is often full of celebrations that include cooling off at the lake, grilling burgers and hot dogs, getting together with friends and family, and fireworks. The 4th of July is one of the most popular holidays to celebrate across the entire calendar.
While many people may choose to take a trip to the lake, visit a carnival, or go see a big fireworks show, just as many people would rather stay at home and throw their own party over 4th of July weekend. Throwing a backyard party over this holiday weekend may also be safer, as it keeps you in the comfort of your own home. After all, 4th of July weekend ranks third in fatal car accidents over holiday weekends.
If you do plan on throwing a party over this holiday weekend, you may be wondering how to best utilize your outdoor space. Whether you have a swimming pool, fire features, an outdoor kitchen, or outdoor living area, there are plenty of things you can do to throw the best 4th of July party. Mid City Custom Pool is here to provide you with some fun and useful tips.
Cook Outside
One of the best things about summer is that the weather is perfect for enjoying your time outside. Nothing beats going outside to throw down some ribs, burgers, corn on the cob, kebobs, and more on the grill while enjoying the sunshine. If you have an outdoor kitchen, you can easily and elegantly craft a perfect meal for 4th of July weekend for you and your guests.
Even if you just have a fire feature like a fire pit, you can still enjoy cooking outdoors. You can always buy a grill rack to place over your fire, or you can wrap up food in tin foil and bury it in burning charcoal or firewood. Whatever your means of cooking, these areas provide a focal point for gatherings over 4th of July weekend.
Set Up Tables and Tents
If you do plan on grilling outside and having family and friends come over, consider setting up some tables and even tents. Not everyone has a cabana, pergola, or other shaded sitting areas, so it would be thoughtful to your guests to set up your own shaded areas to ensure your guest don't have to sit in the sun for too long. By doing so, you give guests an area to gather around and socialize while they wait for the food to be cooked. Consider setting out appetizers or beverages to keep guests satisfied!
Add Decorations
Regardless of if your outdoor space is big or small, you can still take advantage of the holiday weekend by adding some patriotic flair with the help of red, white, and blue decorations. Set up decorations along your outdoor tables and chairs. If you have tents, cabanas, or pergolas, you can hang some decorations along the top of them. For those eating, you can even buy patriotic disposable plates and cups. Be sure to have the American flag flying in one spot in your backyard. Get in the American spirit over 4th of July weekend!
Get the Pool Ready for Swimmers
The summer is known for being extremely hot. While many people love spending their days out in the sun, it can become unbearable being out in the heat for too long. If you plan on hosting guests for a 4th of July party, consider opening up your pool, especially if you know young children will be coming. This gives your guests a chance to have fun, get active, and cool off in the summer heat. You should always remember that if children are swimming, an adult should be watching to ensure that no accidents occur. Remember to also have spare towels ready for guests to dry off and sunscreen on hand to protect swimmers from the sun.
Fireworks
Fireworks are arguably the most popular way to celebrate over 4th of July weekend. If you do plan on shooting off fireworks, contact city or county officials to make sure that it is safe, and you are allowed to use fireworks in your area. While fireworks are widely popular, they are also dangerous. About 180 people go to the emergency room every day around the month surrounding the 4th of July due to fireworks-related injuries. Always be sure to practice proper firework safety.
If you don't plan on shooting off fireworks yourself, you can always gather around your fire feature and watch fireworks that are being fired off around you.
End the Night Around the Fire
As the sun sets and the day comes to an end, you can still extend your 4th of July festivities by utilizing your fire feature. Summer nights can get chilly even though the summer is known for its warm weather. On these chilly summer nights, you and your guests can gather around your fire feature to stay warm, sharing a drink or one last snack. As you sit by the fire, you can look up to the night sky and watch as fireworks go off around you, putting the perfect cap to your 4th of July festivities.
The 4th of July is one of the most celebrated holidays throughout the country. After all, it is the celebration of our country's birth. Countless families and friends come together to celebrate over 4th of July weekend. It does not matter if your backyard is big or small. You can still throw your own party this 4th of July. Mid City Custom Pools knows that you can always make the most of the space you have to throw the best party possible.