Making the Most of Fire Features This Summer
Jun 10, 2020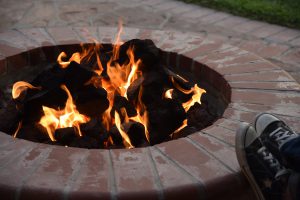 You Can Still Enjoy a Fire Feature in the Summer
Summer is virtually here! It's the perfect time to get outside and enjoy the warm weather with friends and family. Swimming pools are the most popular choice to have fun in summer. After all, these small bodies of water help cool you off while still giving you plenty of entertainment. While your pool may be a popular entertainment option over the summer, it is not the only backyard amenity that you can enjoy this season. Not many people would think to use it, but your fire feature can be a source of fun and entertainment for friends and family throughout summer.
When many people think about fire features, they often think about sitting cozied up next to the fire when the weather is cool and crisp. While fire features are perfect for the fall and winter months, that doesn't mean you can't find a use for them over the summer. There are still plenty of ways you can make the most of your fire feature this summer.
Mid City Custom Pools prides itself on being the premier pool builder in the DFW area. Not only do we create unique and visually stunning swimming pools, but we also create spas, water features, fire features, and more. If you are interested in adding a fire feature or another amenity to your outdoor living space, contact Mid City Custom Pools today.
Small Gatherings
For some reason, humans are naturally drawn to fire. Maybe it is something primal, harking back to our ancestors, or maybe the movement of the dancing flames hypnotizes people. Whatever the reason, having a fire feature creates a focal point in your backyard where people can gather. If you want to have a small get-together, all you have to do is tell people "We're lighting up the fire pit this evening. Do you want to come over?" People will flock to your home. The evenings in summer are often cool and can even get a little chilly, so a fire feature will help you and your guests stay warm on these cool nights.
Romantic Night
Sitting around a fire creates a rather romantic evening for you and your partner. While getting a group of people together to hang out might be fun, sometimes spending some quality alone time with your significant other is better and more meaningful. You can skip a night out by sharing a drink next to the fire. Even summer nights can be cool and chilly, which gives you and your loved one a reason to cuddle up next to each other.
Cooking Over the Fire
There are many instances where you can use your fire feature to help you cook a meal. Summer is full of holidays and events that call for groups of people to gather and celebrate. From Father's Day to the Fourth of July, you can use these holidays to take advantage of one of the best benefits your fire feature offers: cooking. After all, what good is a gathering without food?
You can place a grill rack over the fire to cook whatever you like, such as ribs, chicken, kabobs, steak, salmon, and more. If you have a fire feature that uses coal or wood, you can even wrap up your food in tinfoil and tuck your food among them to cook. Cooking outdoors gives your food a unique flavor that you can't create inside!
Backyard Camping
Camping is one of the best ways to bond as a family. While not everyone has the chance or ability to go camping at a lake or big woods, you can always create your own camping experience in your backyard. Bring a tent outside for a night full of stargazing and scary ghost stories. But what good is camping without a campfire? A fire feature is an easy and safe substitute for a campfire. You can still gather around it for warmth and roast marshmallows for s'mores.
Fire Safety
Regardless of how you use your fire feature, you must know good fire safety to ensure that you do not damage your property or cause harm to any visitors. Fires of any kind, even in those in fire pits and fireplaces, pose inherent risks. Understanding this fact helps you be more prepared and cautious when using a fire. Taking the appropriate steps to maintain a fire can help you avoid turning your casual cookout into a disaster.
According to the Consumer Products Safety Commission, around 5,300 injuries occurred that were related to fire pits and outdoor heaters in 2017. That number nearly triples the number in 2008. There were 509,500 outside fires in 2018, and nearly half were unintentional, which is why it is vital to pay close attention and take the necessary precautions to ensure your fire feature does not cause disaster.
Tips
Keep fire features at least ten feet from homes and all other buildings. However, some cities and counties require an even greater distance, so you should always check before building one.
Never place one underneath a tree or overhang.
Keep small children away from fire.
Ensure there is no horseplay near a fire.
Always burn in an open, well-ventilated area.
Keep all flammable materials away from the fire area, such as loose clothing, furniture, trash, and debris.
Always cook with mitts or potholders to avoid burns.
Educate small children about the dangers and seriousness of fires.
Keep a fire extinguisher or a source of water nearby in case of an emergency.
Never leave a fire unattended. Make sure a flame is fully extinguished before walking away.
Mid City Custom Pool is here to help you make the most of your summer. While most people think that means jumping into their pool, you can also take advantage of the many opportunities a fire feature provides. If you are interested in adding a fire feature to your backyard, contact Mid City Custom Pools today.