Installing a Hot Tub for the Winter
Nov 20, 2020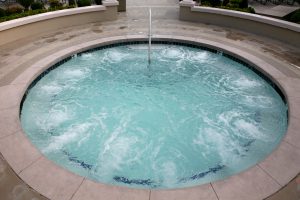 Installing a Hot Tub is Much Easier than a Pool
As the year comes to an end, we are swiftly approaching the cold winter months. By now, homeowners have already shut their pools down for the winter. With your pool out of commission for the next few months, what can you do with your backyard and outdoor living space to pass the time? One exciting option is to install a hot tub for the winter!
Hot tubs (also known as spas) are perfect for the wintertime. After all, they give you a chance to enjoy your yard without the worries of freezing. They provide you with a relaxing warmth that lets you enjoy the brisk winter air. While maintaining a hot tub is similar to maintaining a pool, installing one is a different process.
Installing a hot tub is not nearly as extensive or as long a process as building a pool. However, if you are interested in installing a hot tub of your own, there are some things you should be aware of before committing to one.
Hot tubs are the perfect amenity to make the winter more enjoyable. With the help of expert pool builders, you can expect a spa that is built to last and will bring you countless hours of relaxing joy. To get started on your own hot tub, give Mid City Custom Pools a call today.
Installing a Hot Tub
Installing a hot tub is a much simpler process than many realize. Often, people liken the process to that of installing a swimming pool, but they are much different. After all, a swimming pool is a much larger project, so it requires more materials, approvals, and people involved.
In some cases, homeowners want to include a spa as a part of their swimming pool, so our pool builders will install one during the pool building process. For others, they might already have a pool, outdoor living space, or nothing at all and want to add a hot tub anyway.
This process is simple. There are only a few things you need to ensure to make the installation process go smoothly: location, access to your yard, a solid and sturdy foundation, and access to electricity and a garden hose. These are all vital to installing a hot tub.
Location
Before the installation process even begins, you need to decide where you want to install your hot tub. You have likely already chosen a spot in your yard. If not, most builders have individuals who can come to your home and inspect your yard to find the ideal space for your spa.
Many people want privacy, so put your spa out of view of streets or neighboring homes. If you have a small yard or very few secluded areas, you can also hide your hot tub with a gazebo or pergola.
Remember, your spa needs to be in a spot that allows for easy access to an electrical hookup and a garden hose. Also, builders need to be able to get to it easily. They will need to bring the hot tub and other equipment, as well.
Solid Foundation
Once you have your location picked out, it's time to make sure that the foundation it sits on can hold up. Securing a foundation is different if you want an in-ground hot tub, as opposed to an above ground hot tub.
For in-ground hot tubs, you need the soil to be strong enough to hold your spa but soft enough to excavate. If you wait too long in the winter, the ground might freeze, which makes excavation impossible. However, if it has not frozen, you can dig, but you should remember that winter weather can change quickly and push back the completion date for your spa.
For above-ground hot tubs, you need to secure a strong base to place your spa. Those installing your hot tube will consult with you about your best options. A common choice is concrete because it is sturdy and long-lasting. It is also a popular choice for patios and yard designs. Just make sure the soil under it can support the concrete.
Another option is decks. Since a deck should already be level and is already in your yard, it's the perfect spot for your hot tub. Someone should inspect it to ensure that it can support a spa. However, depending on the hot tub you choose, a simple level pad of stone might do the trick. Discuss your options with your pool builder.
Electrical and Plumbing
The amount of electricity a hot tub requires differs, ranging from 110V to 240V. For models that require less voltage like 110V (often referred to as "plug-and-play"), all you have to do is plug it into an electrical outlet, and you're good to go!
For those that require more electricity like 240V, electrical is a little trickier. A certified electrician will need to come and ensure you have enough power for your spa and will run the correct wires to your electrical panel to ensure it works.
Many homeowners are surprised to learn that hot tubs don't require plumbing, at least above-ground hot tubs. These are self-contained units. All you need to do is fill it with a hose and balance its water chemistry regularly, and it's ready to use. Naturally, you will need to skim the pool for foreign substances and drain and refill it regularly.
Benefits of a Hot Tub
Owning a hot tub gives you a great amenity to relax and stay warm throughout the winter. However, they also provide a host of other benefits, including:
Provides relief from certain medical conditions, such as arthritis and fibromyalgia
Helps ease chronic pain
Improves cardiovascular health
Boost your mental health
Improves your sleep
As you can see, owning a hot tub does so much more than keep you warm on a brisk winter night. Installing a hot tub is a relatively simple process for the benefits it presents. If you are ready to install a hot tub in your yard, give Mid City Custom Pools a call today and let's get started today.