The Different Types of Fire Features
Nov 18, 2019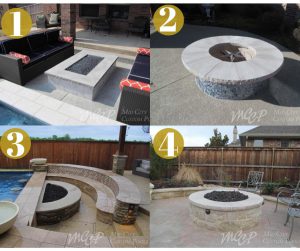 There are Many Fire Feature Options
With winter on our doorsteps, the time you can spend outdoors is getting shorter and shorter. The winter brings with it cold, harsh temperatures that make sitting outside uncomfortable. No one wants to spend all their free time stuck inside, yet no one wants to go outside if they know they're going to be shivering the entire time. However, there are plenty of ways you can combat the cold and enjoy the outdoors this holiday season. By installing a fire feature, you can offer you and your guests an area to gather around and stay warm.
There is no need to have a pool or spa to install a fire feature in your backyard. All you need is an established outdoor living space. As long as you have an area set aside for gatherings, a fire feature can wonderfully improve the aesthetic of your outdoor living space.
Furthermore, you won't be limited in the features you can choose from. There are several different types of fire features that each have their own look and style. The expertly skilled designers at Mid City Custom Pools are here to provide you with some of the most common fire features.
Fire Pits
Fire pits are the most common type of fire feature you are likely to see. They are simple to design and build, seamlessly blending into any outdoor living area. They come in many different shapes and sizes and can be built from various materials, including metal, stone, brick, and more. You can create a pit that resembles a campfire, or you can build a more contemporary look.
You can even decide to make your fire pit in-ground, which is a paved or stone space surrounding a hole in the ground. Most fire pits utilize wood-burning, but there are some that use propane, natural glass, charcoal, and more.
Fire Bowls
Fire bowls are extremely similar to fire pits, yet they have slight, key differences. They are generally built into the ground. Whether they were installed above or in-ground, they are still connected to the ground.
Fire bowls, on the other hand, are their own features. They are simply just big bowls that hold fires. They are also very portable. While they are smaller than most fire pits, their portability makes up for their lack of size. You can easily store your pit away instead of leaving it out in the elements.
Just like fire pits, there are several designs available to you. Typically, they rely on natural gas or propane to fuel them, but some do use wood. If you live in an area with strict regulations, fire bowls are a great option since they easily contain fires and aren't too big.
Fire Tables
Fire tables are one of the most distinctive choices available to you. They provide plenty of benefits for you and your guests. As the name suggests, they are tables with a fire on them. The fires are more often than not found in the center of the table. The fire is small, yet it more than does its job.
Fire tables provide you with a warm area for you and your guests to gather around, enjoying meals, cooking food, and more. They are so helpful because not only do they provide you with plenty of warmth, they also give you a space to set items like drinks, food, or board games.
You also have plenty of options to choose from. You can build a dinner table, coffee table, bar top, and more. Whatever your need is, a fire table can help. Smaller tables are much easier to move. They typically rely on gas or electricity to fuel their fires.
The styles are virtually limitless. These fire features are built for fashion and function.
Outdoor Fireplace
Outdoor fireplaces are very similar to ones you would find indoors, except for the fact that one is inside and the other is outside! Often, your outdoor fireplace will be built into your outdoor living space, remaining in one place permanently.
It is important that when creating your fireplace that you use materials that are weather resistant. After all, it will be open to the elements like rain and snow and drastically varying temperatures, so you need to make sure it can handle the wear-and-tear.
You can build a simple design or get creative and make an elaborate feature. Wood is the preferred fuel for these features. They provide high heat output and are typically safer than other fire features.
Chimenea
Chimenea is Spanish for chimney. You have probably seen examples of them throughout Mexico and the American Southwest. However, they have continued to grow in popularity over the years.
They are essentially small, portable fireplaces. They have an open mouth that directs heat at you and your guests, and it is covered with a small opening on the top to direct smoke up and away from your guests.
Traditionally, chimeneas are made from terracotta, but as they have grown in popularity, more materials, especially metal, have become popular when building them. Typically, chimeneas are wood burning.
Water-Fire Features
If you do have a pool or a spa, you can add to your backyard amenity by installing one of several fire features designed for them. There are quite of few different choices to add a fire feature to your pool or spa, and you can ask your designer for what works best for your backyard.
If you are looking to grab the attention of your guests, you can install a water-fire feature. The juxtaposition of the fire reflecting off of the water is an excellent way to boost the elegance of your backyard. You can also consider a fire fountain. A simple water fountain can be transformed with the addition of a flame on top.
Fire features are the perfect way to make the most out of your backyard living space during the cold winter months. Not only does it give you and your guests a warm area to gather around, but it also adds a compelling focal point for your backyard. There are several options to choose from. Depending on your purpose and the space available, your options are varied. If you are interested in installing a fire feature in your backyard, contact the trusted and skilled designers and builders at Mid City Custom Pools today.