Swimming pool design trends to look out for in 2018! 
Jan 16, 2018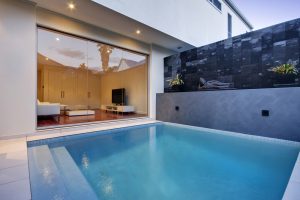 It's a new year, and this means it's that time again where you feel and utilize the motivation and the freedom to start over, to update, to revamp yourself and other various aspects of your life. It also means it's the perfect time to redecorate… When you want to update the look and feel of your house, one of the best places to start, is your backyard. January is the perfect time to start with a redesign to your backyard, as that it will give you just the right amount of time to get everything ready and beautiful in preparation for the coming of the warmer months. And what is the perfect and best way to update your backyard this year? Well, we think you should start with your pool. So, on that note, let's discuss some swimming pool design trends to look out for in 2018!
Concrete pavers
Concrete pavers are an awesome patio option. They are easy to install, tough, weather-resistant, cost-effective, and of course, look great. There are two options when it comes to concrete pavers, interlocked pavers, and architectural pavers. For those interested in a more natural and aesthetic look, architectural pavers are the way to go. The best part is, concrete pavers can be installed with almost any design or trend you wish to implement.
Inside out
Generally, people go with outdoor pools. But things may be changing with this new bright idea… How about a pool that integrates the outdoor theme with the indoor theme? It may sound confusing, but this trend consists of the pool being built closer into the back of the house, with only the separation of, for example, large sliding glass doors. Watch the kids while enjoying a lemonade in the shade of your living room.
Monochrome
This look is extremely sheek, clean, and mesmerizing. If you have a house that is modern and consists largely of white and black (or grey) colors, this look is perfect for you. Using black tile in the bottom of the pool creates for quite a unique and desirable look. When it comes to shape, this aesthetic design goes perfectly with anyone looking to go with the geometric look. We also highly recommend incorporating concrete pavers as a part of this look as well.
Smart pools
As you may have realized, smart homes are now quite a popular thing. With the vast growth of technology, we are now incorporating these new technologies into the operation and design of our homes…So, what next? Our pools. You won't mind this luxury, as you will have all the control at your fingertips on your smart phone when it comes to the lighting, temperature, cleaning, and audio aspects of your smart pool.
Elevation
When you think of an elevated pool, you may think of a classic pool being built into the deck, but that's not exactly what we mean with this design. In this case, we mean, pools elevated to the point of being on their own level. Having pools built into the second level of your home to be more exact. All we have to say is, it's pretty amazing.
If you are looking for a swimming pool builder in Colleyville, here at Mid City Custom Pools we are confident that our swimming pool experts can help you design and build the pool of your dreams. Contact us today, and let's get started.