Elevate Your Backyard Space With An Outdoor Kitchen
Jul 09, 2018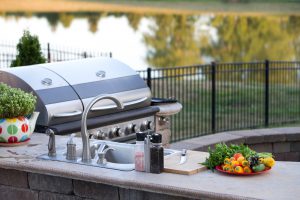 You and your family love your backyard, you have put copious amounts of thought, time, effort, love, and money into it. It is one of your favorite places to spend time, but somehow it almost seems like you could be spending more time out there and getting even more out of your backyard. One of the best ways to make your backyard the ultimate place to spend time is to install an outdoor kitchen. This transforms your backyard into the perfect place to have parties, get-togethers, family dinners, and more. No one has ever regretted adding an outdoor kitchen to their backyard, and here is why…
Entertaining
Having an outdoor kitchen creates for the perfect entertainment space. Whether you are entertaining your good friends or family, you will love the atmosphere of cooking and eating together outside while enjoying nature and your beautifully designed backyard. Having an outdoor kitchen is great for having barbeques, pool parties, and family dinners. Another bonus is you never miss out on the fun. While everyone is outside enjoying themselves, you aren't slaving away by yourself in the kitchen inside, but instead enjoying your time with everyone outside while you are cooking. You will be amazed how much more you will get out of your backyard by installing an outdoor kitchen.
Convenience
One of the most luxurious parts of having an outdoor kitchen is the convenience and the less mess inside. Not only will you be able to keep all the barbeque smells outside and not inside your house, but there is less hassle of having to carry everything back and forth and miss out on half of the fun while you are making dinner.
Expansion of living space
By adding an outdoor kitchen, you are majorly expanding on your living space. Whether or not you have a growing family, love entertaining, or just want the extra space, an outdoor cooking area will certainly account for amazing living space expansion. You will get so much more out of your already-loved backyard, and likely wonder why you didn't make this installment sooner.
Taste
Another really great reason to have an outdoor kitchen? Food made on the grill simply just tastes better. Even if you already have the outdoor grill, you will love how much more you get out of it and how much more often you get to use it if you finish out the rest of the kitchen area outside.  Make the most of your beloved backyard by installing an outdoor kitchen in Trophy Club. Here at Mid City Custom Pools, we want to make your backyard dreams a reality. Contact us today for a consultation.