How Often Should a Pool be Serviced?
Jul 19, 2018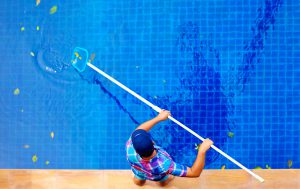 Having a swimming pool is an amazing luxury and great financial investment for your home, however, to keep it that way it must be properly cared for. It is summer here in Texas and that means spending a lot of time in your backyard and in your pool to try and keep cool in this harsh summer heat. With all the time, you are going to be spending in your backyard and in your pool, it is necessary that it is properly cleaned and serviced, for aesthetic purposes as well as safety purposes. Cleaning and serving your pool should be a priority as a pool owner, for the following reasons:
Keeping your pool and loved ones healthy
Keeping your pool regularly cleaned and making sure that your chemicals are in check is dire for the health of your pool and those who are swimming in it.
Saving yourself financially in the long run
By regularly maintaining, cleaning, and servicing your pool, you will end up saving money in the long run. If you don't keep your pool healthy it will likely lead to big costs down the road such as premature pump repair or replacement and other clogs or damage that could have been prevented.
Keeping your pool clear and beautiful
With the thought, time, money, and effort you have put into your pool and backyard, keeping it beautiful and clean and looking bright should be a priority.
Your pool is an investment that has beneficial value for the future
Also, to be considered when it comes to looking into the future is that pools have major investment benefits, this is of course only if they are continuously looked after.
With these reasons in mind as to why it is so important to keep your pool within a regular cleaning and servicing schedule, you will also need to know how often this is necessary to maintain your pool's health. The truth of it is that your pool will likely need some sort of looking after almost every day. This means emptying the skimmers and using the net to grab extra debris. However, it is, of course, dependent upon the season as to how much cleaning you will need to engage in.
Weekly
Pool service in Trophy Club should be engaged in once a week. You will want to have your pool's pH levels checked weekly to ensure your pool keeps healthy. You also may need to shock the pool if it is necessary. With a pool vacuum, you will have to worry a little bit less when it comes to clearing the pool with a net and cleaning out the skimmers. However, you will also need to maintain the cleaning of the pool vacuum to ensure it can do its job properly.
Bi-weekly
Twice a week you will want to clear out your pool's various filters. You may also need to clean the pool's tiles or plaster twice a week as well. This will help to ensure that your pool keeps clear of unwanted bacteria, that the filters continue to run smoothly, and that there won't be a growth of algae in the pool. 
When it comes to having a healthy and happy pool your best bet is turning to the professionals. If you have questions about building or updating a swimming pool in your backyard, call us today. Here at Mid City Custom Pools, our priority is your satisfaction. Don't hesitate to contact us today.