Water Feature Ideas to Add to Your Pool (Part 1)
Apr 17, 2017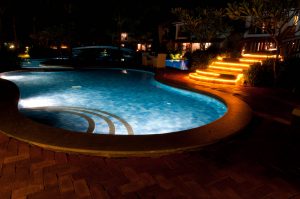 With spring in full swing and summer quickly approaching, there is no better time than the present to start thinking about how you can take your home swimming pool to the next level. Having a pool in your backyard is crucial when it comes to surviving the hot Texas summers. While many people stick to the basics, others prefer to "go big". Water features are one of the best ways to enhance the overall feel of your pool, and in turn, backyard. Not only are there many different water features to choose from, but there is just something about the soothing sound of water that makes people feel good.
If you are looking to customize your pool in a stylish and meaningful way, it may be time to start thinking about adding a water feature. From trickling streams to light-up waterfalls, there are many different options out there for you. Regardless of which direction you go in, a water feature can add both ambiance and functionality. For many homeowners, making the decision to have a home swimming pool installed is a big one. In most cases, a swimming pool is not something you will change year after year, so you want to make sure you do everything right. Whether you want to enhance your current swimming pool by adding a water feature or are laying out plans for a new custom pool, it's a good idea to understand what your options are when it comes to water features:
Pentair Magic Falls – This is a clean water feature, which means it is super easy to maintain and is one of the most classic water features out there. This type of water feature is more in line with current pool trends, so it's recommended to go away from rock water falls (mainly because of the maintenance involved). By adding a Pentair Magic Falls water feature to your pool, you are adding ambiance and value to your project, and overall home
Color Vision LED Bubbles with GloBrite Light – This is a wonderful way to light up a tanning ledge or shallow bench, as you get the ambiance and functionality of a bubbler, along with the visual effect of an LED light. This is basically a mini version of the famous Las Vegas Bellagio fountain in your very own backyard!
Both of these unique water features will add a little extra something to your backyard living space, which is the point of a pool, right? We know how difficult it can be to figure out which direction to go in when adding features to your pool, which is why we wanted to start small with the Magic Falls and LED Bubbles with GloBrite Light. Later this month we will discuss a few more popular water feature options, allowing you to choose which is best for your home. Here at Mid City Custom Pools, we believe in providing our clients with the information they need in order to make a decision that not only fits their budget, but their overall taste and design aesthetics. To learn more about our water features or to schedule a consultation with us today, please contact Mid City Custom Pools.