Why You Should Have A Pool Cabana in Your Backyard
Nov 19, 2018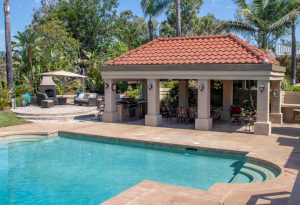 Once you build your dream pool, it is amazing how much usage you get out of your backyard. Your backyard gains so many more wonderful characteristics as a place to relax, a place to cool down in the Texas heat, a place to swim laps and exercise, a place to keep the kids entertained, and a place to hosts guests, etc. You may be surprised to learn that there is actually another way to increase how much you get out of your backyard, and that is by adding a pool cabana. So, what are the benefits of having a pool cabana?
It is an Extended Living Area
One of the most-commonly loved functions of a pool cabana is that it extends your living space. You can be outside, but still protected from various weather elements such as rain and intense sunshine. You will find that pool cabanas are great for entertaining and hosting guests and small get togethers as well as a wonderful spot to relax and have a cool drink or warm cup of tea.
Dependent on the type of cabana you get, it can play the role a little outside living room. Luckily here at Mid City Custom Pools, we have an abundant variety of custom pool cabana designs that you can choose from, perfect to fit your taste, needs, and décor.
It Helps Keep You and Your Loved Ones Out of The Sun
We love the sun, but it can also be harmful in abundant quantities. Having a shaded place to relax while the kids are playing in the pool is a huge beneficial feature of a cabana. When taking a break from swimming or simply when just hanging out, keep yourself and your loved ones safe and shaded from the harmful UV rays by installing a pool cabana.
It Can Increase Your Storage Space
A cabana can also be a great place for storage. If you don't have a place to stash the kid's pool floats and toys, you can get a bin and store it underneath the shelter of your cabana.
It is an Aesthetic Enhancer
On top of all the amazing benefits of a pool cabana, it is also simply a beautiful aesthetic enhancement to your backyard. There is an array of different styles and designs you can choose from, whatever suits your taste. You will love the eye-pleasing accompaniment of this majestic structure in your yard.
Regardless of the reasons that you decide to build a pool cabana, whether it be for beauty, shade, value, or an extended living space, here at Mid City Custom Pools we can help. Call us today for any questions or to schedule a consultation.