Tips to Throw the Best Summer Pool Party
May 31, 2019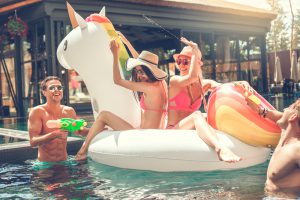 Summer Offers Plenty of Chances to Throw Pool Parties
Summer is officially here, and with it comes longer days and warmer weather! Why not take advantage of the long, sunny days by throwing a great summer pool party? A pool party is the best type of gathering to throw during the summer months. It prevents you from having to do extensive pre-party housecleaning as well as providing a ready-made activity for everyone involved. Pool parties offer great opportunities to make the most out of the excruciating summer heat. There is a handful of tips to follow in order to throw the best possible pool party.
Figure Out a Theme
While having a pool party basically comes with its own theme, it doesn't hurt to narrow down a specific theme fit for the occasion and summer. Once you've settled on a theme, begin work on decorating your backyard with colorful décor, summer colored beach towels, and themed eating utensils. Bright colors often fit best with the summer weather. Don't go overboard with the decorations, however. You don't want to leave yourself with too much cleanup, but you still want to create a fun and exciting atmosphere.
Fire Up the Grill
One of the best perks of throwing a pool party is the opportunity to fire up the grill. It is hard to beat freshly grilled food right after a nice swim in the pool. Plus, the smell of food grilling helps set the mood for the entire party. The grill can also be a great spot to socialize and hang out for those they don't want to swim. Make sure to offer vegetarian options for any guests that might have that preference.
Supply Finger Food
This is still just a party so many people don't want to be extremely filled up. While there are a handful of people who would love to eat food cooked on a grill, there are plenty who just want to snack on some easy to grab finger food. Try to keep it to food that won't create too much of a mess or get your guest's hand dirty. After all, they will be still be getting into your pool.
Offer Proper Refreshments
Chances are it is going to be rather warm during your pool party. Regardless of whether it is excruciatingly hot or just warm enough, it is still important to keep yourself and your guests hydrated. Sitting out in the sun can be dangerous for children and adults alike. Keep water and other refreshments available to your guests. You can offer adult beverages to those of age but try not to overdo it. They are still staying in the heat, and it can be dangerous to swim while intoxicated.
Provide Plenty of Shade
While swimming is the preferred choice to cool off in the summer, it isn't the only one. You can't spend the entire day wading in the pool. Your guests should have the option to cool off in the safety of the shade. Set up large umbrellas or tents to let your guests avoid the heat if you don't have a cabana or pergolas. This can also keep the food you've prepared out of the heat.
Set Up Music
No party is ever really complete without the proper music! You don't need to go out of your way to hire a DJ or a band, but it wouldn't hurt to have a family-friendly playlist on hand. Set up enough speakers in the backyard so that everyone in attendance can hear the music, but not to the point that it will disturb your neighbors. The right summer playlist can be the final piece to set the mood for your pool party.
The summer offers you and your family plenty of opportunities to get together and spend quality time out in the sun. For those with a pool, throwing backyard pool parties can be a great way to gather those closest to you and enjoy life. Creating the ultimate summer party does not take much time at all and will be sure to impress your friends and family. If you are in need of any backyard amenities or backyard decoration tips, contact the pool builders at Mid City Custom Pools to learn more.