Will a Pool Fit in my Backyard?
May 28, 2019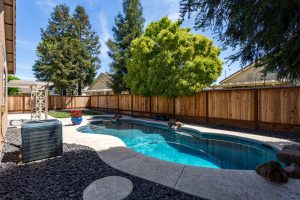 Building a Pool Takes Careful Consideration
One of the most attractive prospects for any homeowner is having a private pool to pair with their home. For those in the market for a home, they may have found the perfect house that meets all of their requirements except it's missing a pool. For owners who already own a home, maybe they've finally decided to invest in a pool after all these years. However, the next question for these people is whether a pool will fit in their backyard or not.
Every home varies in size, amenities, and location. Every backyard is different as well. Some yards are large, while others are much smaller. Some homeowners may feel as though their backyard won't meet the required size to fit a luxury pool. It is very possible that a pool could fit in your backyard, but you must first thoroughly assess the desired area. Here are a few tips to help you figure out if a pool can fit in your backyard:
Evaluate the Backyard Space
If you want to build your dream pool in your backyard, you must first evaluate your backyard space. You need to figure out how much space you are working with. The average size of an inground pool is around 14×28 ft with a depth of roughly 6 ½ ft. This is important to keep in mind when surveying your backyard. Obviously, the size and shape of your pool will ultimately be up to you, but it helps to keep an average size in mind. If you have a big family with active children, a bigger pool may do you better.
The shape and style of your pool will also affect how the rest of your backyard will look and the space left over. Any additional feature like a spa, water features, or a bar will also factor into the space needed.
Determine Room for a Patio and Backyard Amenities
Rarely is a backyard complete with just a pool. While a pool may be the cornerstone of your yard, it will still look bare or incomplete without other amenities in place.
If you already have an outdoor living space, you should design and plan a pool to work around the style and size of that space. However, it is not uncommon to remodel that living area. For those with little amenities put in, they should factor in the space of all desired backyard features.
When building a pool, you want one that fits your wants and needs, but also one that does not make your backyard look bad. The size of a patio, outdoor kitchen, fire features, or cabanas and pergolas will also need to be planned out to ensure your backyard looks as aesthetically pleasing as possible.
Construction Friendly Conditions
This should be done prior to actually deciding whether or not you will actually install a pool. There are actually a number of things to consider when planning this project that could limit the size of your pool or actually stop it from happening. Here are some factors to consider:
Property Lines: Many areas in the country require that a pool be built a specific distance away from property lines. You would also want to avoid crossing any lines that would push your pool into another property.
Utility and Drainage Easements: Easements are the spots in a yard that would prevent you from building any permanent structures on. Utility companies are able to run underground electrical, phone, gas, or telephone lines for your home and neighborhood in these areas. To find out where exactly these easements are, you should contact your local municipality.
Access to Heavy Equipment: A large area of your backyard must be excavated in order to successfully install your pool. This requires heavy machinery and the necessary manpower to accomplish. The builder will need to traverse across your property, and without the necessary space, they can't adequately operate.
Meet with a Builder
Once you have figured out the area you would like to use to build your pool, the area you wish to use, and ensuring that there are no restrictions for construction, it is time to meet with a builder. When meeting with a builder, be sure to have with you a copy of your plot plan as well as any information regardless of property lines and easements. This will present the builder with the information they will need to appropriately plan your pool. They will be able to accurately help you decide whether a pool will fit or not.
Your builder will be able to help you design a pool and outdoor living area that fits the size you want as well as making your back yard look great.
Building a pool in your backyard can be a stressful process. First, many homeowners are unaware if their backyard can even properly fit a pool. Once they have figured out if it can, they must design it and ensure that the space needed will allow such construction. When in the need of a trusted DFW pool builder, contact Mid City Custom Pools today to get started on your dream pool.