Valentine's Day by The Pool
Feb 06, 2019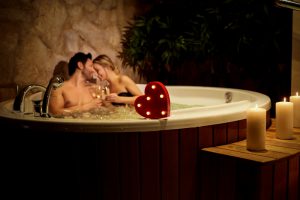 While January always seems to go by quite slowly, we can finally say that it is February, and that means the month of love. Each and every valentine's day is an opportunity to get creative when it comes to planning a romantic evening. If you have run out of ideas this year for your Valentine 's setting, you're in luck, because we've got a perfect idea. Don't worry about making dinner reservations this February, because this year you are going to plan the perfect hot tub date night.
While any night in the hot tub can be romantic, proper planning for the perfect Valentine's evening is necessary. Follow these tips, tricks, and ideas to prepare your romantic setting:
Dinner by the pool
Set up a nice little poolside dinner to start your romantic evening. There's something about being outside, listening to nature, and enjoying your significant other that is extra special. Grill your favorite foods or order take-out from your favorite restaurant and enjoy it at your beautiful place by the water.
Homemade cocktails
Make sure your evening is complete with delicious homemade cocktails. There are plenty of drinks that are extra special and themed for romance. Try rose champagne with a dash of elderflower liqueur and strawberry half.
Candles and ambient lighting
There is something about candles when it comes to creating the perfect ambiance. Try sweetly scented candles or ones that give off the scents of fresh flowers. Whether it is 1 or 10, it's up to you, but candles will surely do the trick for the perfect settings.
Music
Romantic or relaxing music is another important aspect when it comes to ambiance. Grab your waterproof speaker and set it poolside with a playlist of you and your loved one's favorite love songs.
Unwind in your hot tub
While the Texas weather is unpredictable, it is regardless the perfect season for relaxing in your hot tub. Set up your candles around your hot tub and get the music going so you can both unwind while drinking your champagne in the water.
At-home movie night by the pool
If you want to go all out, you can even set up a projector to screen your favorite romance movie on one of the walls outside. An outdoor movie night while relaxing in the hot tub will undoubtedly impress your date.
Sweets for your sweetie
Don't forget some delicious treats to enjoy while you are relaxing in the hot tub. We suggest chocolate covered strawberries to compliment the flavor of your champagne. Plus, it doesn't get much more romantic than this sweet treat.
Big fluffy robes
Don't forget your big fluffy robes for when you want to get out of the water. Not only will the robes create for a spa-like atmosphere but they will ensure you stay a bit warmer on a cool night.
Follow these romantic tips and tricks and you're sure to impress your loved one with this out-of-the-ordinary Valentine's date night.
With cold winter evenings and hot summer nights, Texas is one of the most popular places to have a pool and the addition of a hot tub. If you are looking to upgrade your pool or perhaps add on, you may be in need of an experienced hot tub builder in Southlake. Here at Mid City Pools, our trusted team can help. Call us today to set up a consultation.