2019 Swimming Pool Trends
Feb 09, 2019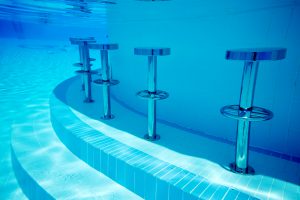 If you live in Texas, you understand the necessity and luxury of having a pool to fend in the Texas heat and humidity. While your pool is a major and beneficial investment, you want to make sure you are keeping up with the latest and greatest pool trends in 2019. When you are making the decision with your swimming pool builder in Colleyville as for how you want to design your dream pool, keep these 2019 swimming pool trends in mind for motivation!
Natural pools
More and more people are building pools that are more natural looking. This is done with circular shapes (usually non-symmetrical) and earthy colors and stones. If the landscape of your backyard is about plants, greenery, nature, then this is definitely a design trend you want to consider. One of the benefits of this trend is that nature never goes out of style.
Fire features
Fire features are one of the top trends of 2019. There are several different fire elements and features you can choose from here at Mid City Custom Pools that will really bring your pool to life. One of our favorite and most unique custom designs we have seen is that of a fire pit built right into the center of a pool with a seating area. Talk to your expert pool builder in Southlake about what we can offer you with our selection of fire features.
Swimming pool bar
Swimming pool bars used to be something you only found at your favorite resort at your favorite vacation destination, but not anymore. People are now building swim-up bars right in their own backyard.
Saltwater pools
More and more homeowners are looking to the option of saltwater for their pool. Saltwater is most commonly implemented with the natural-looking pool design trend, but it can be used in any design. Salt water is a more natural option and contains fewer chemicals, it is also easier to maintain.
Small pools
If you don't have a huge backyard, don't worry, smaller pools are in. Many people are adding small rectangular pools to porches and into little nooks in their backyard. Not only does a small pool add a ton of use and quality to your backyard, it adds ton of aesthetic appeal to your backyard. Incorporate your smaller pool with other layouts such as a neat seating area or an outside kitchen.
Ledges for lounging
Another 2019 design trend is adding larger ledges inside one's pool. These ledges are great for lounging. You can even add water-proof lounge chairs to your in-water ledge. Catch some rays and relax right in the water but out of the water at the same time.
LED lighting
LED lighting has taken over the lighting industry. They are ultimately the best bulbs for saving energy and long-lasting benefits. Adding LED lighting to your pool gives you an array of options for adding color and pop to your pool at night.
Keep these awesome pool trends in mind when you build or update the pool of your dreams in 2019. If you have any questions or would like to schedule a consultation with our expert pool-building team, contact us here at Mid City Custom Pools today.