Mid City Custom Pools process, the way we do things (Part 2)
Feb 19, 2018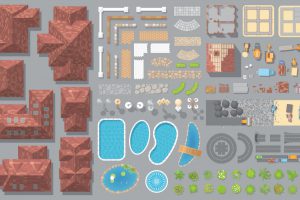 In this post, we'll be continuing the Mid City Custom Pool's process. If you read part 1, you would have seen the discussion of the process from step 1 to step 4. In this post (part 2) we are going to continue on from step 5 to step 8. Customizing your pool is a multiple step process, but these steps are all necessary in order to achieve our goal of building the pool of your dreams. So, let's get going.
#5 One of our main reasons for having the second appointment at our office, is not only to show you your new pool via our 3D software, but also to allow you the opportunity to touch, feel, and grasp the materials that we will be using to construct and build your pool. At this meeting, you will be able to see one of the biggest paver displays of any builder in the area (link paver article here).
#6 After you select your custom materials and the perfect design is agreed upon, we will then fill out our construction agreement so that we can start moving forward with getting your pool in the ground. A 10% deposit will be required upon this signing of the agreement. The deposit will be used for any items that need to be paid for upfront before we are able to begin the construction. We pride ourselves in how we do business with our clients as it is one of the reasons we have successfully been around since 1973.
#7 Once the construction agreement is signed and the 10% deposit is paid, we will move on to the next phase, which is the permitting phase. The permitting phase is executed via your personal design consultant. Your personal design consultant will be with you from the initial meeting to completion of the "permit process". Later we will explain who you work with after the "permit process", but rest assured that MCCP has certain designated specialist for your project throughout the entire process.
Our clients love their personal design consultants, as they truly help to bring the backyard vision to life for both parties. The permitting process will consist of a drafter, an engineer (when applicable), and permit runners. Things may be starting to sound complicated, but not to worry because Mid City Custom Pools will handle all of the legwork required during the phase. You just need to sit back and relax and let us do what we do best.
The permitting phase can last between 6 to 8 weeks. Longer processes are usually dependent upon the city, the scope of work, and if you are building on an army core of engineer land.
#8 Once your construction plans are completed by the drafter, we will then take those plans and email them to you. It is sometimes necessary for the client to use these documents to get HOA approval, while we are busy getting permits.
Once all of the paperwork is completed and comes back from the delegated places (the city, the utility, etc.) we will then call you in order to schedule the pre-construction meeting.
As a swimming pool builder in Colleyville, we pride ourselves on the intricate customization of your dream pool, which is why we have used this opportunity to explain our process to you in these two-part posts. If you have more questions about the process here at Mid City Custom Pools or are ready to get started on designing your pool or outdoor spa in Southlake, contact us today. Our team of experts will be happy to help you get on the right track to your dream backyard.