How to Throw the Best Holiday Pool Party
Dec 21, 2021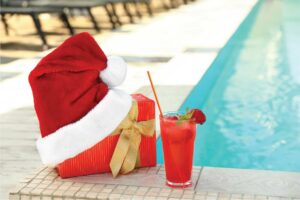 You've probably been to some pretty great holiday parties over the years, but have you ever been to a holiday pool party? Although it may seem a little "out there", hosting a holiday pool party in the winter months, can be so much fun and the perfect amount of "out of the ordinary". Your guests will be talking about it for years to come, and so will you!
Since you may have never hosted or attended a holiday pool party, there are many great tips and tricks from those that have before. If you have had a holiday pool party before, maybe some new helpful hints can be beneficial to you this year.
What Your Pool Needs for a Holiday Party
There are a few things to remember when readying your pool for a winter holiday party. You must take special care to be sure your pool equipment is properly maintained with the temperature fluctuations that are sure to present themselves. These things can include:
Keeping good water flow with your pool pump. Your pool pump must be running constantly if the temperatures drop near freezing. This way your pool system is protected and kept in running order. Depending on where you live and the typical temperatures during winter will determine how much you need to run your pump. It will also dictate how costly it is for you to keep your pool open during the several chilling months of the year.
There are different options to consider when looking at a pool pump that will be running year around. Talk to your local pool professionals for more information on what would be best in your pool.
Heating your pool. Consider investing in an automatic timer to increase safety and cost effectiveness. An auto timer can change settings according to the outside temperature as well as according to preset times (7 p.m. to 7 a.m.). The efficiency of your heater will increase as well as your constant worry and need for manual changes that keep your pool equipment from being damaged due to sudden changes in weather.
Keeping your water at healthy, balanced levels. Keep your water clean and your pool well maintained just like any other time of year. Not only will it keep your pool healthy and ready for swimmers, but it will help reduce possible waterline staining on the sides of your pool.
Covering your pool. Think about all the work and money you've spent to get your pool nice and warm during the winter. Covering your pool is an easy way to lock in that heat and not let it simply release and evaporate into the air. Your pool heater will thank you by running much more efficiently.
Holiday Pool Party Decorations
When your pool is all ready to go, it's time to make your pool area festive with decorations. Your pool itself with its beautiful lights will give off a wonderful festive glow. Other fun ideas are:
Christmas Trees, Lights and Poinsettias. You can decorate around your pool with pine tree greenery that is lit with sparkling lights all over. Festive ribbons can also be a fun touch.
Don't forget the use of Christmas lights all over, even lining your fence. This can be an inexpensive way to decorate with a big impact. Even a Christmas tree all decorated and lit with several beautiful lights can add so much to the holiday atmosphere you are trying to create. Don't forget potted poinsettias all around too. Their beautiful color can really enhance an otherwise empty area.
Floating Decorations. There are all kinds of floating decorations that are so fun! Some would be more appropriate to decorate with during swim time while others might be better before and afterwards. Either way, there are many options to choose from. A few fun ideas may include:
LED pool balls
Holiday wreaths placed on styrofoam
Lit Christmas Decorations (animals, Santa, reindeer, presents and more)
Pool toys and other floating items decorated for the holidays
Holiday Pool Party Games, Activities and Music
After getting your pool ready for a winter opening and decorating your backyard and pool area, you can prepare any activities you want to have ready for your guests to be entertained with. Many of your normal pool party games can be tweaked to be more festive for the holidays.
Whether your friends are racing to see who can build a solo cup Christmas tree the fastest or decorating their friends as Santa's little helpers, you're sure to have a great time just being together. Don't fret about planning too many activities as many guests will just want to swim and have a good time catching up with friends. That's what's great about a pool party right? Your activity is built in!
Don't forget to have festive, holiday music playing at your get-together. Music can add to your party's ambiance more than you may expect. There is so much holiday music available to download at the touch of your finger, this may be the easiest part of your party to prepare for.
Holiday Pool Party Food
Holiday appetizers, cookies, and other treats can all be tasty treats for your pool party. If it's going to be a little chilly outside though, don't forget to have hot drinks like cocoa and cider to warm everyone up. Add some fun holiday mix-ins and you'll be set.
Your Trusted Pool Experts
If you have plans to keep your pool open all season long, it's a good idea to talk to a pool expert that knows the ins and outs of pool maintenance and seasonal care no matter the temperature and weather conditions in your area. For more information and answers to all your questions, call or visit Mid City Custom Pools today. Don't chance your otherwise well-maintained pool equipment this winter. It could cost you more than you're willing to spend on that holiday pool party if you don't plan appropriately.