5 Things You Should Know Before Building A Pool
Nov 08, 2018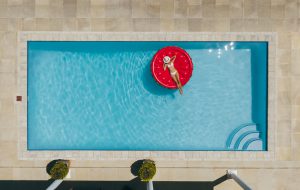 So, you're taking a dive into building a pool. A pool is a big investment which will add to the value of your home if built properly. It's best to have a good idea of what you want when deciding on what kind of pool you're looking for. Consider these questions to help you gain a better idea of what you want out of your pool.
Why do you want a pool?
Surprisingly, a lot of people who want a pool built haven't much consideration into what having a pool means aside from being able to have a cool place to go for a dip in the summer. There are other things to consider when wanting to build a pool. Do you want a pool to increase the value of your home? Do you want a pool because it will be a great way to get more usage out of your backyard? There are a lot of reasons to build a pool, and you may find that you have a lot more than one.
What will it be used for, and by whom?
Knowing what you plan to use your pool sounds simple enough right? You want to go for a swim whenever feel like. Well I mean it can be easy as that, but what if you have an aquatic fitness fanatic who wants to swim laps an hour a day? Taking these factors into account will help you narrow out the type of pool you want to build. If children will be using your pool there are a lot more factors to be considered, such as safety.
What style of pool do I want?
There is a lot that goes into the style of pool that you may want. You need to consider the shape of the pool, the size, the depth, the materials (for the base of the pool and accents), the type of pool filtration system, and any additional features that catch your fancy such as a waterfall, a diving board, or tanning ledges.
What are the zoning regulations in my area?
The not so fun part of having a pool built is considering the zoning regulations in your area. Pool construction falls into the category of a home renovation project and as such knowing your zoning regulations is key. Before you even get started, make sure you're abiding by zoning ordinances for pools. Ordinances vary by city so it's important you do that research. Fortunately, many pool builders will help you along in this process.
What is my budget?
Finally, the last question to ask is how much you intend to spend on pool construction. If you factor in longevity, maintenance, and accessories your pool can turn out to be the pool of your dreams if you have budgeted perfectly. It's recommended to talk with a financial advisor about the costs and benefits of adding a pool to your property.
Building a pool can be one of the most rewarding additions to your home. If you are considering having a pool built let us help you. Mid City Custom Pools specializes in designing and building custom swimming pools with our client's goals in mind. We want to help you design and build the pool of your dreams. For any questions or if you would like to schedule a consultation with our team, contact us today.