New Year, New Pool? Is It Time to Renovate Your Pool?
Jan 06, 2020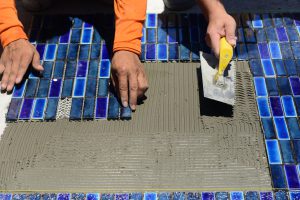 Take Advantage of the New Year and Renovate Your Pool
We have finally entered a brand-new year and a brand-new decade! The start of a new year is the perfect time to step back and reassess many areas of your life. Many people all across the world take this time to make changes in their lives, some personal and some professional. People tend to make New Year's Resolutions that involve weight loss or reading more. However, Mid City Custom Pools would like to remind you of one change homeowners can take advantage: pool renovations.
The beginning of the year is arguably the best time to start renovations for your pool. Whether there are repairs that need to be made, or you simply want to update the aesthetic of your pool, use the start of the new year to ensure your pool is ready and renovated for the summer of 2020.
If you are looking to renovate your pool in the early stages of the year, contact Mid City Custom Pools. Our expert pool builders have the experience and knowledge needed to ensure that your pool is better than ever.
Why the New Year is the Best Time to Renovate Your Pool
While there is no bad time to remodel or renovate your pool, especially if there are repairs that need to be made, the beginning of the year is arguably the best time to do it. Much like deciding when the best time to build a pool is, there are plenty of reasons why building your pool at the start of the new year is ideal, including:
It's the Offseason: The new year is during the winter season, which means you have already shut your pool down. Taking the time to remodel your pool won't affect how and when you use your pool. You weren't going to be using it during the winter, anyway.
Less Competition: Pool builders typically have very busy schedules during the spring and summer months. However, in the winter, their schedules are far more open, providing you the chance to renovate your pool much faster.
Better Building Weather: The spring is well-known for its rain. If you were to renovate your pool during the spring, you put your schedule at risk. Rainy days often push back the completion time for your project.
Ready by Summer: No matter the level of renovation needed for your pool, if you were to plan ahead and schedule renovations at the beginning of the year, your pool will be more than ready by summer, when it is needed most.
Take Advantage of Landscaping: Lastly, when your pool is being remodeled, your mind may spark new ideas of how to improve the overall aesthetic of your backyard. It typically takes some time for vegetation to take root, so while your pool is being renovated, you can focus energy on improving the landscape of your backyard to match your renovated pool.
Most Common Remodeling Options
If you are a long-time pool owner, then you are fully aware that every so often, your pool needs some work done in order for it to function properly. Additionally, pools go through plenty of wear and tear every season, so it's only natural that they would need to be renovated to bring them back to their old glory. Whether there are repairs that must be done or you want to stay on top of upcoming pool trends, the beginning of the new year is the perfect time to start renovations.
Some of the most common remodeling options include:
Resurfacing: This is a very important reason for renovating your pool. If the surface of your pool has been compromised in any way, it can lead to pool leaks, which can be extremely dangerous if not taken care of promptly. If you recognize any signs that your pool may have a leak, do not wait.
Tile/Coping Repair: While coping is structurally important to your pool, it also provides you with an opportunity to improve the aesthetic of your pool. The coping and tile in and around your pool add style and elegance to your backyard oasis. If you recognize any cracks or simply want to update its look, replace your tile and coping this new year.
Decking: While not exactly part of your pool, your deck is still an extension of it. If you've had your pool for a few years, your deck has probably seen better days. You may just need more room to entertain more guests than before, so you want to extend your deck. Whatever the need may be, replacing or extending your deck is very common during renovations.
Adding Fire Features: One of the most popular trends heading into 2020, fire features are pool additions that many owners look to add during renovations. They add a level of elegance to your backyard, while also extending the use of your backyard amenity. Even if the fire feature is completed before the summer, you can still use it during the remaining winter months.
Adding Water Features: Just like fire features, water features are also popular options heading into 2020. Adding a water feature provides you with a relaxing and tranquil environment. You can include a simple waterfall design or get very creative. Either way, water features add a level of sophistication to your backyard.
Trusted Pool Builders
With the new year, many people tend to make changes to their lives. If you are a pool owner, one of these changes may be to renovate your pool. Whether you need to make repairs or just want to make your pool look brand-new again, the beginning of the year is the perfect time to remodel your pool. Not only is there more availability for pool builders, but it will be ready just in time for the summer. If you are looking to make renovations to your backyard oasis, contact Mid City Custom Pools today.