2020 Swimming Pool Trends
Dec 04, 2019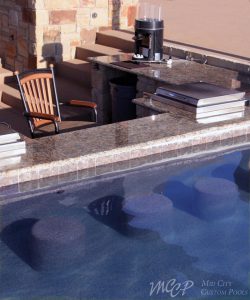 A New Year Brings Plenty of New Trends
Throughout human history, swimming pools have been used by several different civilizations for several different purposes. Spending leisure time in water has been a critical part of human life. As time has passed and civilization has evolved, so have swimming pools. Their designs have gotten far more complex, and the technology used to build them has only improved. Swimming pool trends have only seen massive changes in the centuries since their introduction in the zeitgeist. Each year seems to bring new styles and technologies that help shape the future of swimming pools. 2020 will be no exception.
2019 saw its fair share of important swimming pool trends, and some of them will help guide how pool builders go about creating pools in the new year. While the winter is often a time where many pool owners are unable to get the most out of their vaunted amenity, it is also a time when they can look ahead at applying these trends to their pools.
Mid City Custom Pools is here to provide you with several upcoming swimming pool trends in the year 2020. We are prepared to answer any of your questions regarding the process of building a pool, adding new amenities like fire features, and much more.
Pool Bars
Many people want to make their backyard amenities feel more like places they would go for vacation. After all, your pool and outdoor living space is your own backdoor oasis that helps you relax and unwind. Wouldn't you want it to resemble the most luxurious and relaxing resorts around the world?
Many of these resorts have pool bars. These bars are simply ledges or bars that are built into your pool that connect to an outdoor kitchen or space. No longer is your pool just used for playing games and exercising. The latest pool trends point to pools being used more for lounging and socializing.
For these bars, you no longer have to sit by the edge or use a floatation device to keep you up. These pool bars often include built-in benches or bar stools, offering you and your guests a more comfortable place to socialize.
Smart Lighting
Traditionally, most pools were not outfitted with pool lighting. When they were, they often only had just one color and one brightness. You were limited to what you could do when it came to lighting your pool. However, 2020 looks to see a more prominent change in pool lighting trends.
Smart lighting has continued to grow in popularity over the last couple of years, and it appears that more and more people are looking to include this addition to their pools in the coming year. Smart lighting often employs the use of LED lights. This gives pool owners far more opportunities to spice up their swimming experience.
Smart lighting provides you with:
A plethora of color options
The ability to adjust the brightness of your lights
Less energy and heat
Increased durability
Cheaper usage cost
Who wouldn't want lighting that provides you with the chance to change your lights to fit your mood and is far more cost efficient than traditional pool lighting? Look to see this pool trend take off in 2020.
Darker Pool Finishes
For decades, pools have traditionally been built with a light blue finish at the bottom and the sides. Many Olympic and public swimming pools still have this finish, as well as many private pools. While this has been the norm for quite some time, it has never been the most aesthetically pleasing. However, a pool trend in 2020 may see that change in the coming years.
More and more pool builders and owners are outfitting their pools with finishes with darker hues. Dark finishes not only give your pool water a more natural and relaxing look, but they also retain heat better than light finishes. Because they absorb more heat, you don't have to spend near as much on heating costs. On top of that, dark finishes also make it harder to recognize any dirt and debris in your pool, keeping your pool from appearing dirty.
NOTE: Even though dark finishes do hide dirt and debris, you should still actively clean your pool. 
Ledge Lounges
As we mentioned previously, many people want their backyard oasis to resemble that of luxurious resorts they would visit during vacation. Pool bars are a welcome addition that helps give off this vibe, but so are ledge lounges. These are the areas at the edge of the pool that are extremely shallow, typically only reaching your ankles. A lounge chair is added here, which allows you to still be in the water while you sunbathe.
Ledge lounges allow you to still be in your pool while enjoying the warmth of the sun. For these lounges, you will also need to get lounge chairs that you can move to and from these spots whenever you need to. This is one pool trend that may pick up some steam in the coming year.
Fire and Water
As time has gone on, pools have gotten more and more complex. The technology and ability to craft intricate designs easily and safely have allowed pool builders to experiment and create inspired pools. One way pools have seen improvement is through the addition of fire features. Fire features help make your pool and backyard much more aesthetically pleasing. The juxtaposition of the fire next to the water adds an exciting element to your backyard.
There are several different types of fire features that you can add to your pool. These fire features give off a relaxing vibe while making your backyard appear much more elegant and luxurious than it did without one. This particular pool trend has continued to grow in popularity in recent years.
Swimming pools have been a part of human life for generations. They have been used for sport, relaxation, and socializing, among other things. In their time, they have seen many different changes and advancements, improving the experience of pool owners for years. 2020 will see plenty of swimming pool trends throughout the year. To keep up with any upcoming pool trends, contact Mid City Custom Pools.